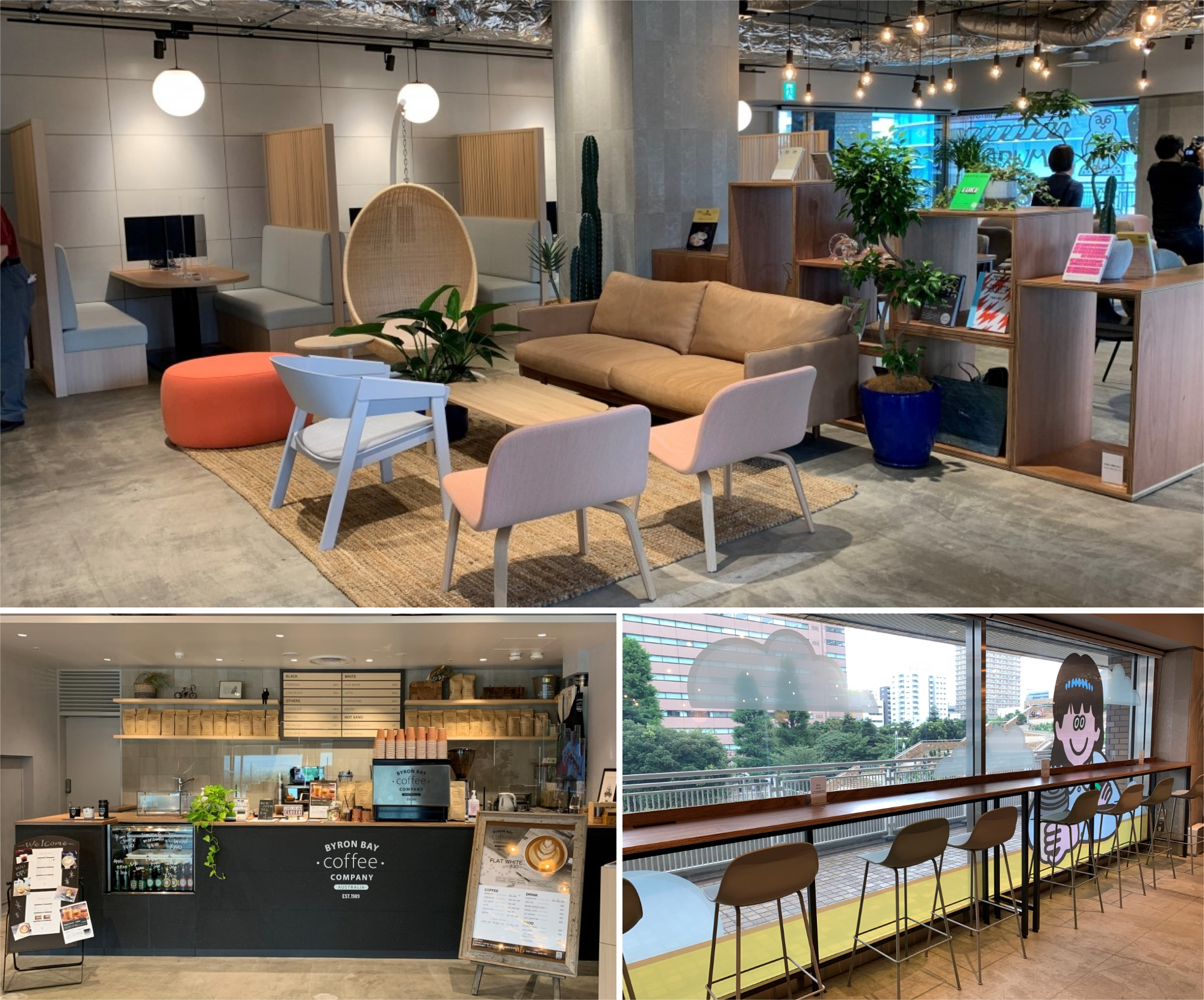 [IKEBUKURO new store report 6th]
In early November 2021, the community lounge "Sunshine City SOLARIUM" is scheduled to open on the 3rd floor of the specialty store in Ikebukuro / Sunshine City, which can be used for various occasions such as work, meals, and refreshment.
(* Added on October 26: It was announced that the grand opening will be on November 1 (Monday))
Kokoshiru has participated in the press preview of "Sunshine City Solarium", so we will introduce the state of the facility and how to use it.
In conclusion, "Sunshine City Solarium" is for nomad workers who want to work in a place that is not as lively as a cafe and not as formal as a coworking space, or for people who want to change their mood and work as usual. Is going to be a perfect spot!
Community lounge "Sunshine City Solarium" with cafe and kitchen
The community lounge "Sunshine City Solarium", which can be used by anyone over the age of 18, is located at the end of the 3rd floor of the Sunshine City specialty store, Alpa. It is a healing location with the plants of the Spanish Steps in front of you and the park next to it.
Business days and hours are from 9:00 to 18:00 on weekdays .
This facility is a place where a wide variety of people gather and aim to become a base for promoting the community as "a place that connects" people and people "and" people and things ". From the entrance
1. A micro library space where you can see and touch the products of interest
2. Cafe "BYRON BAY coffee" where you can enjoy organic coffee
3. Information wall where information about events held in Sunshine City and around Ikebukuro is posted
4. A kitchen where "Neo Yataimura" provides food on a daily basis for lunch
5. Paid lounge space with box seats and relaxing sofas
It is composed of zones such as. I will explain one by one.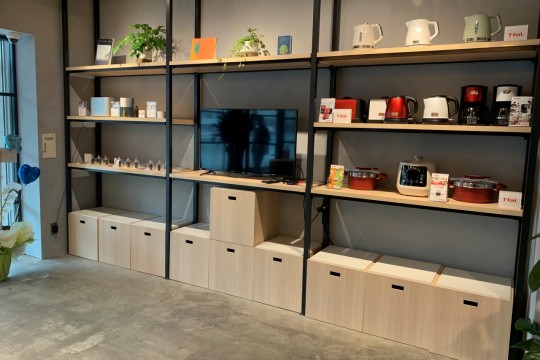 Immediately to the left of the entrance is the micro library space where you can directly see and touch the products of various companies. It seems that it will also be used for corporate test marketing.
According to Mr. Ogiwara of Sunshine City Co., Ltd., who is in charge of the facility, the products introduced here are basically related to clothing, food and housing considering the customer base visiting Sunshine City. At the time of the interview, Tefal's kitchen goods and aroma oils that you can try the scent were placed.
"We will be exhibiting new products that will provide a topic to the people who come and that will allow people to have conversations with each other, as well as products that will move our hearts."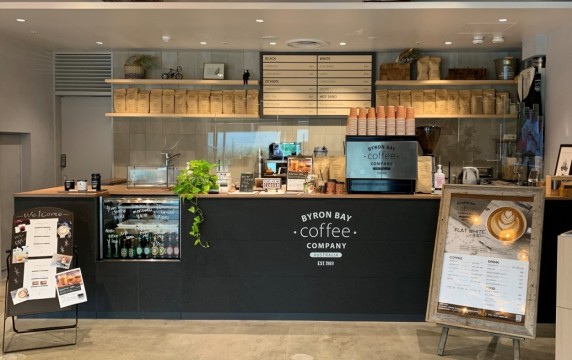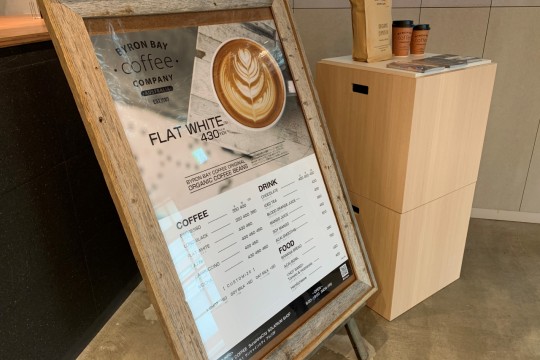 In front of the entrance is Byron Bay Coffee, a cafe that originated in the Byron Bay area of Australia. In addition to organic coffee and tea, which are mainly priced in the 300-400 yen range, alcoholic beverages such as beer and light meals such as hot sandwiches and cookies are also sold.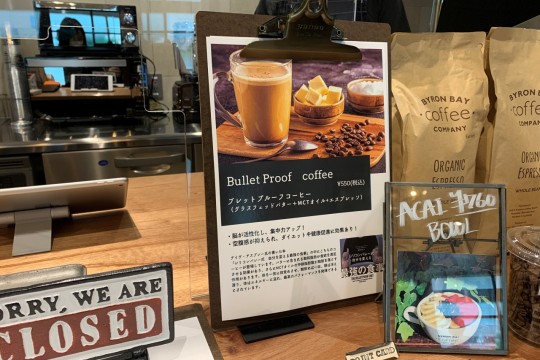 Workers are happy to see that work drinks such as "Bulletproof Coffee", which can be expected to improve concentration, are on sale. It seems that you can use it to go home after drinking a glass of alcohol at the end of work. In addition to being able to bring it to the paid lounge space described below, takeout is also OK.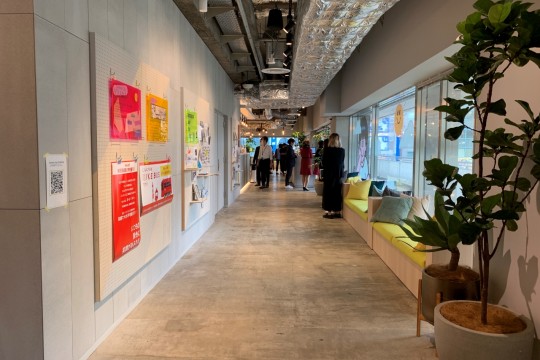 In the aisle on the right side of "Byron Bay Coffee", there is an information wall and bench seats where information on events and workshops around Sunshine City and Ikebukuro is posted.
Sunshine City has set up the "Town Development Promotion Department" in April 2020 and is working on town development in Toshima Ward in collaboration with the government and local companies. You can see that we are focusing on creating opportunities to promote communication.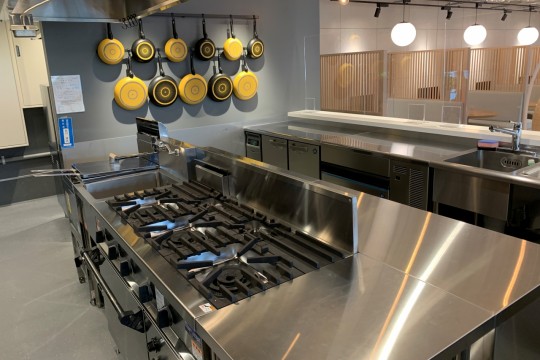 Follow the aisle to the kitchen and paid lounge space . The kitchen is open every day of the week, day and night by different businesses. At the time of the interview, it was introduced that two stores a day will be open for lunch (11: 00 ~ 14: 30) from "Neo Yataimura", which offers a multinational menu with a kitchen car at a reasonable price. ..
The point is that you can use it without getting tired of the wide variety of lineups such as beef toro bowl, curry and gapao rice!
As with "Byron Bay Coffee," you can eat the food you buy here in the paid lounge space, or you can take it out.
You can change the interior layout to your liking !? Introducing the lounge space
And finally, the main subject is the paid lounge space, but there is no membership registration. A drop-in type that can be used on an hourly basis is adopted. Enter by issuing a QR-equipped ticket on the reception touch panel. The ticket is presented to the reception staff at the time of exit and payment is made, so if you ask the reception staff to enter or leave the venue on the way, you will be able to handle it without any problems.
The usage fee is as follows.
Up to the first 30 minutes ¥ 410
Every 10 minutes extension + ¥ 80
Maximum daily charge (4 hours ~) ¥ 2,170
The lounge space, which has a maximum capacity of about 80 people, has box seats and relaxing sofas, giving it a very fashionable atmosphere. As the name "SOLARIUM" = "place in the sun", the interior is impressive with large windows that let in the pleasant sunlight. The window is decorated with art drawn by FACE, an artist from Toshima Ward who is active globally.
What is remarkable about the lounge space is that it has a wide variety of chairs that are fun to look at.
Actually, the chairs and tables that can be moved can be freely moved by the user according to the scene. (Of course, as long as it does not bother other users)
For example, the chairs in the area named Flexible Koagari are prepared for movement. Certainly it looks like a block and it seems easy to combine. This is convenient when you want to have a meeting with multiple people.
Seats are not reserved, so if you want to concentrate, you can use the box seats, and when you eat rice, you can sit by the window and relax while looking at the outside scenery.
Of course, free Wi-Fi is flying in the lounge, and there are power supplies (outlets, USB) everywhere, so you can work on your PC without any problems. Furthermore, the box seat was equipped with a monitor.
When I went around the lounge space, there was something I was curious about. That is the table where you can play table tennis.
When asked, "Why is table tennis …?", Mr. Ogiwara says, "I wish I had something that I could refresh when I was tired of work ." If you look closely, the squares are drawn on the table, "It was specially designed so that users can enjoy board games, for example, as a part of communication, in addition to table tennis. "Yeah."
"'Sunshine City Solarium' is a space that is not limited in its use. You can use it as a coworking space, but you can also just enjoy meals, take a break, interact, and use the lounge for each person. I'd be happy if you could do it, " so I think it's a perfect space for workers who can work faster if there is moderately rough air.
It was said that the specific content has not been finalized yet, but after the opening, in order to promote richer communication, various seminars and events will be held in the lounge so that local people can easily participate. I'm going .
There is a great possibility that the people we meet there will work together.
It seems that people have different tastes because it is a drop-in type instead of a monthly type, but since the location is Sunshine City, there are many spots that can be stimulated even inside the building. While sitting in the lounge space for a day, I went out between work and got an inspiration. This is a place you definitely want to use when you want to get rid of your mood or when you get stuck at work. People who want to actively participate in the Ikebukuro community are also paying attention!
You cannot reserve seats in the lounge space, but it seems safe to check in advance as you can check the congestion status on the facility's Twitter account.
https://twitter.com/ssc_solarium
* From October 11th (Monday), prior to the opening, the pre-opening period will be limited to those who work at the office in Sunshine City, so please be aware of the general public.
Overview of "Sunshine City SOLARIUM"
location
Sunshine City Specialty Store Alpa 3F
area
Approximately 321 m2 (approximately 97 tsubo)
open
November 1, 2021 (Monday) * Pre-opening is being held from October 11, 2021 (Monday) only for those who work at the office in Sunshine City.
business hours
Weekdays 9: 00-18: 00 * Business hours are subject to change.
Planning and operation
Sunshine City Co., Ltd.
others
・ In principle, it can be used only by people over 18 years old. * There is a possibility that the age limit will be removed when holding events and seminars.

・ It is prohibited to bring anything other than food and drink provided at the cafe / kitchen in the facility.

Official site
https://sunshinecity.jp/file/official/solarium/
* The content of this article is as of the date of publication (October 15, 2021). The situation may change in the future, so please check the official website of the facility for the latest information.
<Past coverage report>
[Interview report] Happiness for both firm and smooth⁉ Love at first sight with the pudding of "in love with pudding"
"Gashapon Department Store Ikebukuro Sohonten" Coverage Report / A new attraction where the world of capsule toys spreads! The overwhelming amount of things does not stop the excitement
Serious love life is decided here! Report on "THE SINGLE Ikebukuro East Exit", a store specializing in shared seats for one person only
Taste the cutting edge of vegetable meat! Hamburger shop "The Vegetarian Butcher" actual food report
Grind the spices yourself and enjoy with your five senses. "Spice ramen eating JACK -Kujaku-" actual food report