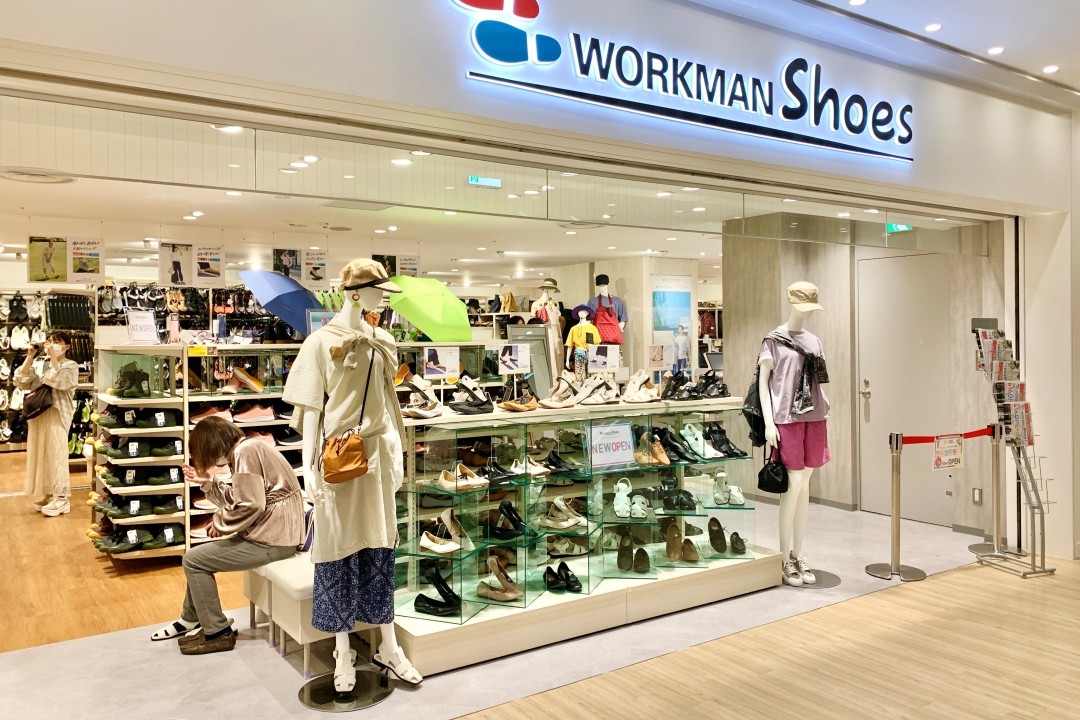 On June 16, 2022, the Ikebukuro Sunshine City Alpa store , a general shoe specialty store "WORKMAN Shoes" , which is a new business format of WORKMAN, which continues to boom, opened.
The second store following the Namba CITY store in Osaka, which opened in April this year. This will be the first store to open in eastern Japan !
I have visited the store, which is attracting attention because it is possible to get functional shoes that are popular with Workman, and women's private brand pumps and sandals that can only be bought here in eastern Japan .
* The image is from the day before the opening.
First in eastern Japan! "WORKMAN Shoes" is now available in Sunshine City with "#WORKMAN Girls"!
The store is located on the 2nd floor of Ikebukuro Sunshine City specialty store Alpa. It opened at the same time as "#Workman Girls" , which develops functional wear for casual, sports, and outdoor activities.
Even though it is open at the same time, it looks like one store because it is an integrated operation common to all cash registers and there are no partitions. You can easily buy around.
The total store area is 132 tsubo. It is said to be the largest flagship store in a commercial facility in the Tokyo metropolitan area . At the time of opening, the two stores have a total of 269 items.
You can only buy it at "WORKMAN Shoes"! Check out Workman's first women's PB shoes
Most of the shoes for the general public sold at "WORKMAN Shoes" are private brand products developed in-house by utilizing the know-how that WORKMAN has cultivated in the manufacture of work shoes. Products that pursue functionality such as ease of walking, comfort, water repellency, waterproofing, and stuffiness prevention are lined up.
Although it is a highly functional shoe that can be used outdoors, in sports, and for everyday use, the price is 980 to 2,900 yen, which makes it easy for students to reach out.
These functional shoes have been developed in business formats such as "Workman Plus" and "#Workman Girls", which mainly sell functional wear, but men's products were the mainstay.
The basic lineup of "WORKMAN Shoes" is the same, but the point is that WORKMAN's first women's private brand products have appeared.
It is a rare item that can only be obtained at the Namba CITY store and here, which is not currently sold at online shops!
The most popular is the "Active Pumps" (2,480 yen including tax) that supports "Hataraku Joshi". Until now, it was available in two colors, black and ivory, but with the opening of the Sunshine City Alpa store, saxophone and camel have been newly added!
"It features a stretchable opening that is easy to put on and take off, and a structure that is hard to take off due to the fit design. I think that you can run with all your strength! The highly cushioned insole gently wraps the arch and has a fluffy and chewy feel." Staff.
It's a very soft material, and when you put it on, it fits your feet many times more than you imagined and you'll be impressed!
The impression is that it expands and contracts quite firmly, but it does not feel like it is tightened. It's very easy to move, and I ran a little inside the store, but I'm sure I can run with plenty of room . I couldn't take it off at all even if I moved violently. The uneven insole is very comfortable and seems to reduce the burden of standing work. I felt that I wouldn't have to worry about slipping shoes because my heels wouldn't float.
The simple design makes it easy to use regardless of whether you are in the business or private scene.
I'm short, so I thought it would be nice to have a version with a slightly higher heel, but he said that he is currently developing to increase the variation in heel height. I'm really looking forward to it! I definitely want to buy this comfort at this price.
The surface of the "ballet shoes" (1,680 yen including tax) is made of a glossy material, and the one point of the toe part is a design that is easy to match with feminine coordination. This also has a stretchy opening that makes it easy to put on and difficult to remove.
Pigskin with excellent hygroscopicity is used for the insole, so it can prevent stuffiness. It had moderate cushioning and was comfortable to wear overall. It doesn't fit as well as "active pumps", but I'm glad that the price is kept down.
"Lace-up shoes" (1680 yen including tax) are wide and girly design. Easy to match with pants or skirts. Personally, Black looked pretty high!
There was almost no heel, and the pigskin insole was also put in, so it was a gentle comfort close to "ballet shoes". It's easy to move like sneakers. ..
"Guruka sandals" (1,680 yen including tax) will come in handy for summer casual outfits. The heel belt is made of rubber so it is easy to put on and take off. Heel is about 1 cm or not.
Experience shows that cheap sandals with such a design have a leather band that bites into the skin or damages the skin, but it is a workman. It was so soft that the band would stick to it, so I didn't have to worry about it.
The company's general shoes have been overwhelmingly men's so far, but in the future, starting with the above four items, it seems that they are developing to further enhance women's private brand products. I'm looking forward to the future development!
In addition, popular Workman functional shoes are also gathered
At the time of opening, a total of 29 items of shoes were on sale, but I was told which one is especially recommended.
The rain boots "Women's Waterproof Safari Shoes" (1500 yen including tax) , which are easy to match with outdoor, town use, and commuting during the rainy season, are gaining popularity due to their fashionable design like high-top sneakers. The bicolor and one point of the logo on the ankle are cute. I also have one pair and it's easy to wear, and it's useful because the water doesn't soak at all in a little rain.
In addition, "waterproof safari shoes" (1,500 yen including tax) , which have a similar design and are available in S to 3L sizes that men can wear, were also on sale.
Of course, we also have a lineup of "Fine Grip Shoes" (1,900 yen including tax) , which is a very popular product that has sold over 1 million pairs. It is designed to be non-slip even on rainy days by transferring the know-how of kitchen shoes, and it seems to be particularly popular with pregnant women.
Men's shoes are notable for their full-scale running shoes, "Athle Shoes High Bounce Overdrive" (2,900 yen including tax) .
The sole has a built-in carbon-blended plate "DRIVEN PLATE" that has a repulsive force, and it seems to generate the force to push the body forward. It is surprising that it can be perfectly supported for a full marathon at this price.
It's a highly breathable skeleton fabric, and according to the staff, it's so breathable that you can't wear it if you're not exercising in winter.
By the way, regarding the size development of shoes of "WORKMAN Shoes", basically
◆ Women's shoes size ⇒ [S ・ M ・ L]
◆ Other shoe sizes ⇒ [S-3L] and [23.0-28.0cm, or 24.5-28.0cm]
It seems that it is.
"Athle shoes high bounce overdrive" is available in sizes from 24.5 to 28.0 cm, but eventually it will be downsized so that it can be purchased by women.
Mid-priced "Athle Shoes High Bounce" and "Athle Shoes High Bounce Driven Sole" equipped with "Athle Shoes Light" (980 yen including tax) , which has outstanding cost performance and is super lightweight, and "BounceTECH", a high-resilience sole. The popular athletic shoes series, such as 1,900 yen including tax) , is fun to choose from in terms of price, design, functionality, etc., so I definitely want you to compare them at the actual store.
It has already been decided that the third store of "WORKMAN Shoes" will open in the commercial facility of Kichijoji in October this year. Until then, "WORKMAN Shoes" is the only store in eastern Japan, so if you are looking for functional shoes, please come visit us.
#WORKMAN Girls x WORKMAN Shoes Ikebukuro Sunshine City Alpa Store Overview
| | |
| --- | --- |
| Opening date | Thursday, June 16, 2022 |
| address | 〒170-6002 3-1-2 Higashiikebukuro, Toshima-ku, Tokyo Sunshine City Alpa 2nd floor |
| business hours | Same as Sunshine City Alpa |
| phone number | 03-3988-5588 |
| Workman official website | https://www.workman.co.jp/ |
* The content of this article is as of the date of the interview (2022/6/15). Please check the official website for the latest information.
<Past coverage report>
[Venue Report] A phantom supercar is also available! "Showa Retro World Exhibition" is being held in Ikebukuro (until May 24th)
[Interview Report] The popular "Tokyo Tarako Spaghetti" opens in Minami Ikebukuro. The store-limited menu "Black Spaghetti with Mentaiko and Raw Nori" has a great impact on both appearance and taste!
[Interview Report] Fashionable pure coffee shop "Tajimaya Coffee Shop Ikebukuro Tobu Store" will open on April 21st! The limited menu "Tajima Beef Sandwich" is sweet and spicy bulgogi-style and addictive.
[Interview Report] Sake ice cream specialty store "SAKE ICE Ikebukuro store" opens! Many people are addicted to sake from ice cream! ??
Click here for a list of coverage reports