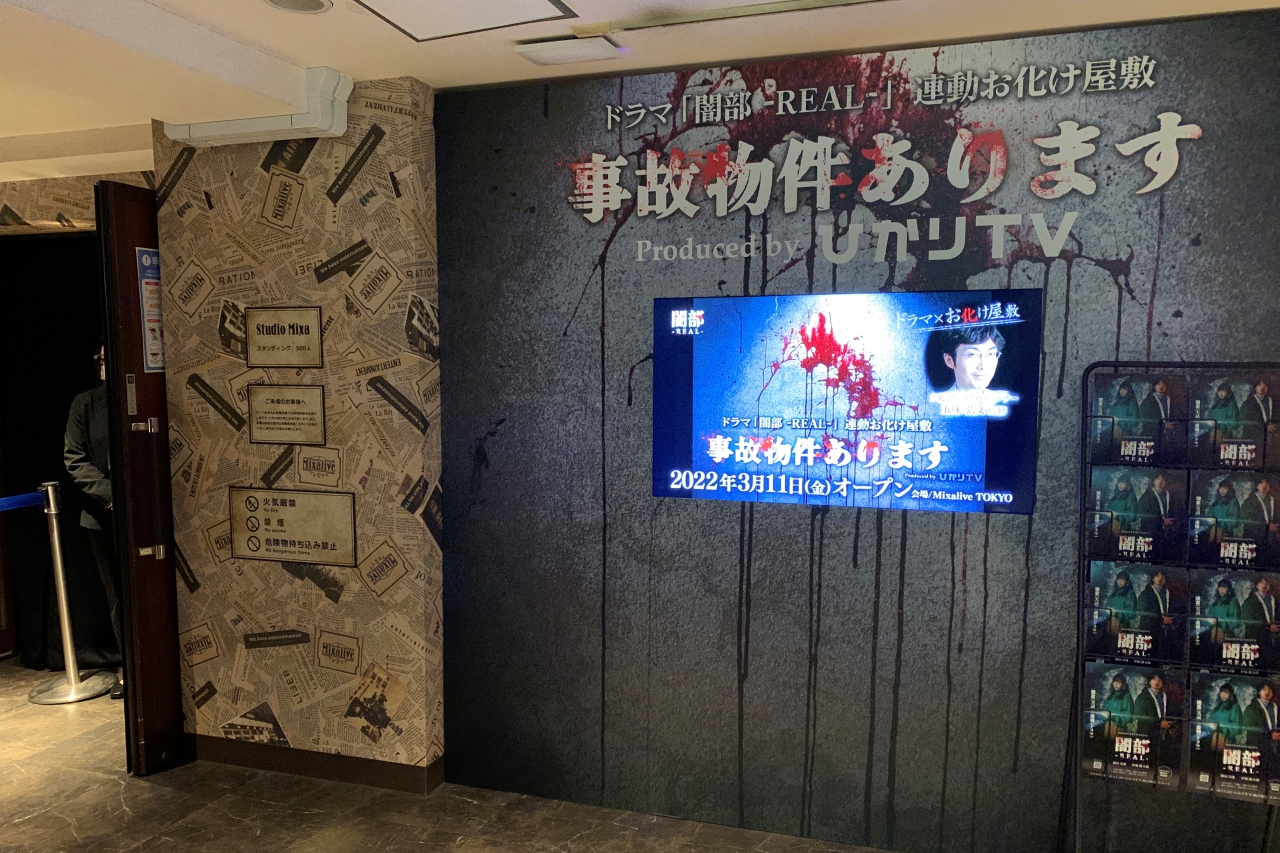 At the entertainment facility "Mixalive TOKYO" in Ikebukuro, the haunted house "Hikari TV Produce" There is an accident property "" (hereinafter, "There is an accident property" ) for a limited time from March 11th (Friday) to April 10th (Sunday), 2022 . "There is an accident property") is open.
Since I participated in the preview held the day before the opening, I will report on the experience of the haunted house held for one month only, such as the atmosphere in the venue and the required time. If you are worried about going, please refer to it!
Smartphone shooting is OK! ?? An unprecedented haunted house "There is an accident property" opens for a limited time
This haunted house was planned by NTT Plala Co., Ltd.'s horror project "Yamibe -REAL-" that links the drama and the haunted house. It is an unprecedented horror entertainment where you can experience the horror you watched in the video in a haunted house.
■ Yamibe Project Site: https://www.hikaritv.net/sp/yamibu-real/
As the first project, the original horror drama "Yamibe -REAL-" (5 episodes, 30 minutes each) will be distributed on the video distribution service "Hikari TV" from March 4, 2022 (Friday).
Miya Sawatari (Mayu Yokota), a new reporter of the horror web media "Yamibe", and Ryo Otobe (Kentaro Ito), a senior reporter, cover the world of darkness and find out the facts while being involved in various mysterious phenomena. It is a story.
The second series that followed was the haunted house "There is an accident property ", which is set a few years after a room in the condominium that appeared in the first episode of the drama "Toru Property". Visitors will be the new reporters of "Yamibe" and will be admitted with the setting of covering the accident property.
Although it is based on the world view of the drama, it seems that the haunted house itself is designed to be enjoyable even if you have not watched the drama.
What's interesting about this haunted house is that it's OK to shoot with a smartphone, which is originally a taboo of a haunted house!
It is possible to take pictures to a certain extent inside the haunted house, just like a reporter trying to find out the truth.
Hirofumi Gomi, who has worked on more than 100 haunted houses, was in charge of producing the haunted house, so expectations are high for its quality.
Experience the haunted house "There is an accident property"!
I can't spoil the details, but I'll show you the atmosphere of a haunted house. By the way, I entered without watching the drama.
(Actually, I was born and had no connection with this haunted house, and it was the first experience of a haunted house for Arasa. Moreover, since I participated alone, I was full of anxiety about what to do if I could not proceed on the way …)
When you enter the venue, you will first be introduced to the drama settings and precautions in a short video, and from there you will proceed to the entrance, kitchen and the property with which it says. At first glance, it looks like an ordinary room, but it is a disturbing space that is dim and the fluorescent lights are blinking. The world of darkness gradually expands …
I was afraid of the horrifying BGM and the painful voice of the woman, but since it was a big deal, I took a picture with my smartphone. At first, I corrected the screen brightly and shot it, but when I look back at it later, I'm not afraid at all, so I have the impression that it's better not to use exposure compensation or flash.
It was sober that I had to open the door for each room by myself. I can't stop soliloquy, "I can't open it … I really don't …". By opening the door, it feels like you are gradually entering the depths of the extraordinary world.
By the way, it is decided that this haunted house can only be entered by 3 people at a time, but since the rooms and passages are quite narrow, I personally feel that it is more likely that one or two people can enter the world. I did. (If there are too many people, it may be that the consciousness is devoted to each movement?)
Huh! !! ?? ??
You're completely "in"! !!
I suddenly heard a voice saying "What?". I'm normal … I can see my feet …
There are people who should never approach! !! !!
Is it okay to take a picture? Are you sure you're okay! ?? If you hold your smartphone, it won't attack you! !! ??
I was desperate to have to go around behind her to get to the next room.
At this point I completely forgot to set myself up as a reporter and couldn't shoot any details. If you have a strong heart, it would be a good memory to take a picture of yourself or your companion in this area. In a sense, it's a very photogenic space.
I'm really looking forward to seeing what kind of gimmicks each had and how I was surprised, but I'm scared because I can see them …
Haunted house fans may say, "What are you doing now?", But the author of the first experience somehow said to the haunted house, "A ghost suddenly appears from an invisible place and scares me." I was surprised because I imagined it.
And even if I could see it, I was scared at all … I'm afraid of scary things, even if I get "I'm not moving" or "I'm moving!"
Even if you enter the shooting NG area, the future will continue. While thinking that it is a waste to have fun, the atmosphere is getting more and more frightening and scary! Everything from top to bottom to side … The last one was thin and walked fast.
Perhaps the author was the first to take part in the preview, but since he was freaking out aloud, the cast members would have felt a great response.
I left the venue early without being able to chew the contents, so I took part in the preview and went around with the staff.
If you check the drama in advance, you can enjoy it more deeply, but even if you haven't watched the drama, if you understand the atmosphere, sound, and intention of the layout, you can understand the story properly. However, even if I can't fully understand the story, there is no problem (?) I'm scared.
Why did it become an "accident property"? What is the tragedy that happened in the condominium? If you are planning to go, please make the interview successful as a reporter.
Such a scene is waiting for you …
In addition, I think that it takes about 10 minutes to walk normally. (Is it about 15 minutes if you focus on shooting?)
The venue isn't very large, but I was able to fully enjoy the atmosphere with the impression that it was packed with ingenuity!
Tickets can be obtained by purchasing online, but it seems that you can also purchase same-day tickets locally if they are available. It's in a good location along Sunshine 60 Street, and you can enjoy it in a short time, so it's recommended to go to a little spare time such as "I'm meeting with my friends in Ikebukuro, but I arrived earlier than planned."
Message from Hirofumi Gomi, Haunted House Producer
Mr. Hirofumi Gomi, the ghost mansion producer who worked on this project, came to the preview, so I asked him about it.
–What was your challenge at this haunted house?
Gomi:
The challenge was to allow photography. I've been making haunted houses for a long time, but I don't think there was any place that gave permission to shoot. It's taboo to show the inside with the entertainment of a haunted house that is intriguing because you can't see it. I think it's great that we allowed it this time, and what kind of reaction will the visitors have? I hope that the results will be interesting.
――What points did you pay particular attention to?
Gomi:
I was particular about the relationship with the drama. When making a haunted house, I usually think about the original story and settings, but this time the story and settings of the drama were prepared in advance. How do you spread it? The stage of the drama is one room in the condominium, but that would not be a haunted house, so how do you develop the world view of the drama as a haunted house? And I was particular about how I could experience it as if I was in a drama.
Also, the key points of the drama are curtains, sash windows, and irons. I made a haunted house with particular attention to the motif around it, so please pay attention to it.
――Please give a message to those who do not know the drama and those who do.
Mr. Gomi: If you came after watching the drama, I would like you to see how the contents of the drama are reproduced. There are two main characters in the drama, but I want you to become the main characters and enter the venue. You can get a business card at the entrance, so I think you can enjoy it if you enter with the feeling of being a reporter.
If you haven't watched the drama yet, I would like you to enjoy it in its original state and then watch the drama with this as the entrance, asking "How do you express such scary things in the video?" I think that the contents of the haunted house can be understood later as "Oh, was that something like this?" Also, the drama has a tricky element, so I hope you enjoy it as well.
A new type of haunted house "There is an accident property" that is linked to the drama and opened in Ikebukuro for a limited time of about one month. I decided to watch the drama immediately!
When you visit Ikebukuro, please try it with your smartphone.
■ Overview of "There is an accident property" produced by Hikari TV
venue
Mixalive TOKYO 4F Studio Mixa (1-14-3 Higashiikebukuro, Toshima-ku, Tokyo)
About a 4-minute walk from Exit 35 toward the east exit of "Ikebukuro Station"
Holding period
March 11th (Friday) -April 10th (Sunday), 2022
* Closed on 3/16 (Wednesday) and 3/23 (Wednesday).
* Business hours are subject to change due to event implementation and media coverage.
business hours
Weekdays 15: 00-20: 00
Saturdays, Sundays, and holidays 13: 00-20: 00
Admission fee
[Online ticket]
990 yen (tax included price 1,089 yen)
[Same-day ticket]
For cash payment: 1,000 yen (1,100 yen including tax)
For non-cash payments: 990 yen (1,089 yen including tax)
How to buy a ticket
[Online ticket] You can purchase it at LivePocket-Ticket- ( https://t.livepocket.jp/e/yamibu ).
[Same-day ticket] You can purchase it locally.
Notes
Recommended age: 6 years and over
* A maximum of 3 people can enter each group.
operation
Eyecast Co., Ltd. (100% subsidiary of NTT Plala)
Yamibe project site
https://www.hikaritv.net/sp/yamibu-real/
* The content of this article is as of the publication date (2022/3/11). Please check the official website for the latest information.
<Past related articles>
Haunted house linked to Hikari TV horror drama "There is an accident property" Open for a limited time in Mixalive TOKYO (Ikebukuro) from 3/11 (Friday)!
Morning Pro x Mixalive TOKYO "Morning Shakespeare" planning started! The first is "Macbeth" in 30 minutes, starring Yamato Kawachi, which will be performed at Mixalive TOKYO from January 2022!
LIVE Entertainment Building "Mixalive TOKYO" (Mixalive Tokyo) Opening content information!
<Past coverage report>
[Interview Report] Sake ice cream specialty store "SAKE ICE Ikebukuro store" opens! Many people are addicted to sake from ice cream! ??
[Interview Report] A 24-hour unmanned second-hand clothing store "SELFURUGI" opens in Ikebukuro! Get a bargain on used brand clothing
[Interview report] Ikebukuro's nomad worker attention! The community lounge "Sunshine City Solarium" is the perfect work space when you want to get rid of your mood.
[Interview report] Make the firm and smooth groups happy! ?? Love at first sight with the pudding of "in love with pudding"
Click here for a list of coverage reports