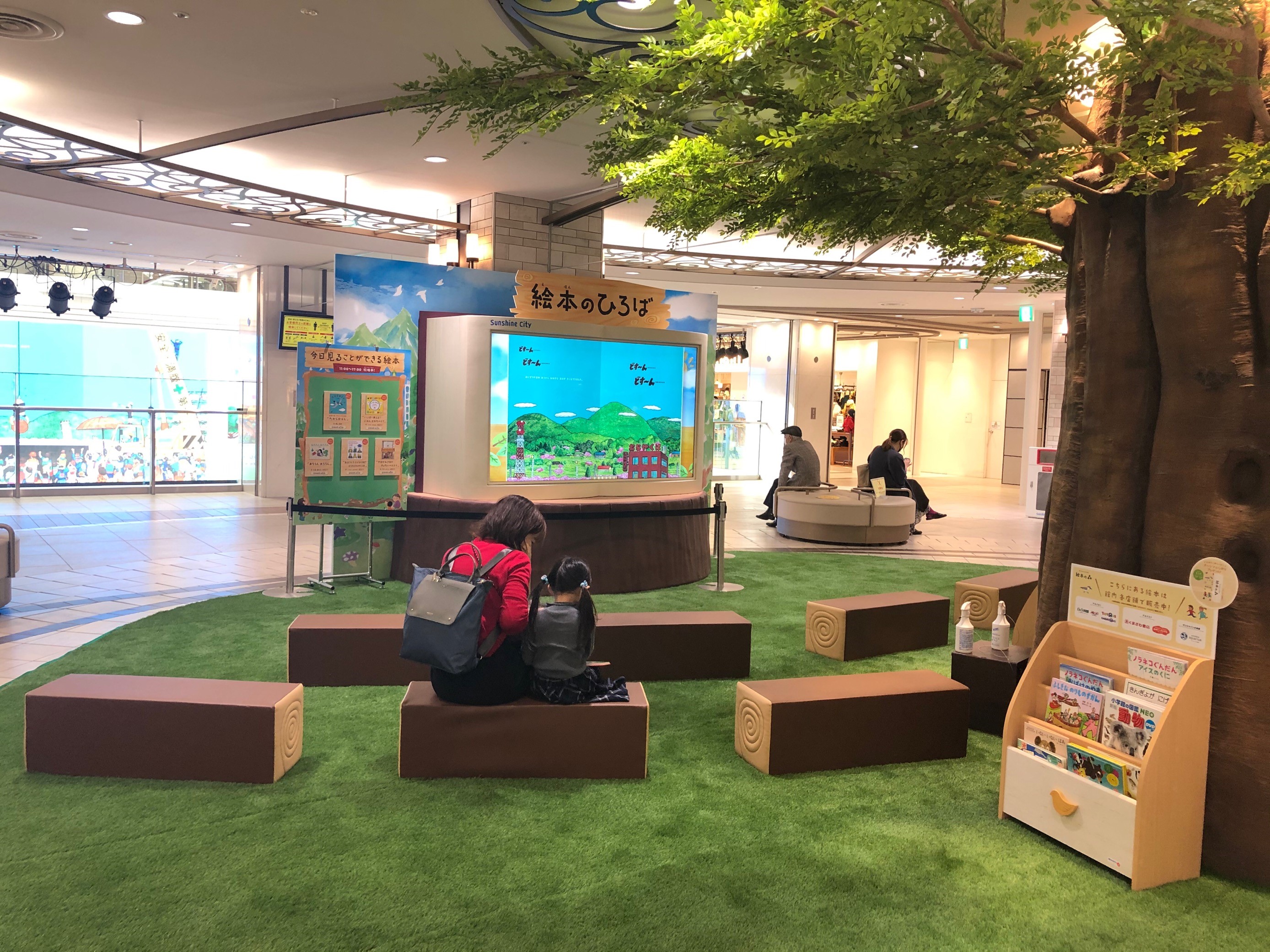 Picture book storytelling sessions and workshops are also held!
In Sunshine City (Ikebukuro, Tokyo), from the fall of 2021, as part of the "Sunshine City Family Project" aiming to become a facility that is loved by local families, the event "Sunshine City Picture Book Forest" with the theme of "picture books" Is being held. We would like to introduce this event, which will be held for the first time, with the voices of customers who actually used it!
[Sunshine City Picture Book Forest Special Site]
https://sunshinecity.jp/file/official/ehonnomori/
・ Picture book open space-There is also a picture book recycling box next to the open space-
"Picture Book Plaza" is the main base of the picture book forest and is used as a place where families can relax together. Under the big tree that feels the seasons, children can read picture books that they choose and pick up, and families can read picture books that are broadcast on large TV picture books. increase. More than 10 picture books are being aired on TV picture books, including 3 original picture books from this event.
[Customer feedback]
● The children were happy
● The open space is cute and you can enjoy picture books
● Children can play safely
● It will be a place to take a rest with children
● It is good to have a "children's priority area"
[Picture book recycling box]
A "picture book recycling box" is set up next to the open space to collect picture books that are no longer read at home. As of February 2022, more than 100 picture books have been collected and will be donated to each facility in Toshima Ward after disinfection.
・ Picture book story-telling session, workshop (free participation)
On Saturdays, Sundays, and holidays (irregular), an event that can be enjoyed by the family is also being held at the Fountain Square (Alpa B1)! At the "Picture Book Storytelling Party," you can enjoy the expressive storytelling of picture book specialist Emiko Abe while watching the picture books projected on the large 628-inch vision. In addition, in the "craft class", you can participate in a drawing class by the author of this event's original picture book, picture book writer Hirota Yokoyama. The contents of the picture book and the contents of the workshop are different each day, so it is an event that parents and children can enjoy no matter how many times they participate!
[Scheduled to be held in the future]
● Picture book storytelling
February 26th (Sat), March 21st (Monday / holiday)
Each day 13: 00-13: 30/15: 00-15: 30
● Workshop
February 27 (Sun), March 20 (Sun)
Each day 11: 00-13: 00/14: 00-16: 00
・ For event details, go to the following news release / special site
・ News release when the event is decided
https://co.sunshinecity.co.jp/press-room/news-release/2021-10-28-1.html?year=2021
・ "Sunshine City Picture Book Forest" special site
https://sunshinecity.jp/file/official/ehonnomori/
* Contents and schedule may change depending on the situation.
※The image is an image.
————————————————– ————————————————– ———-
■ Overview of Sunshine City
Location: 3-1 Higashiikebukuro, Toshima-ku, Tokyo
Business hours: Varies by each facility
Inquiries: Sunshine City General Information 03-3989-3331
https://sunshinecity.jp/
————————————————- ———–
[error: kokosil API failed (https://ikebukuro.kokosil.net/api/v3/spots/00001c00000000000001000000220066?lang=en)]
<Past related articles>
Detective Conan The Barbarian City (Sunshine City) * April 8th (Friday) -June 12th (Sunday) *
[Sunshine 60 Observatory Astronomical Viewing Party 2021] Limited number of people! Diamond Sky Tree® where the sun overlaps the tip of Tokyo Sky Tree®
TIGER & BUNNY HERO FESTA in Sunshine 60 Observatory
<a