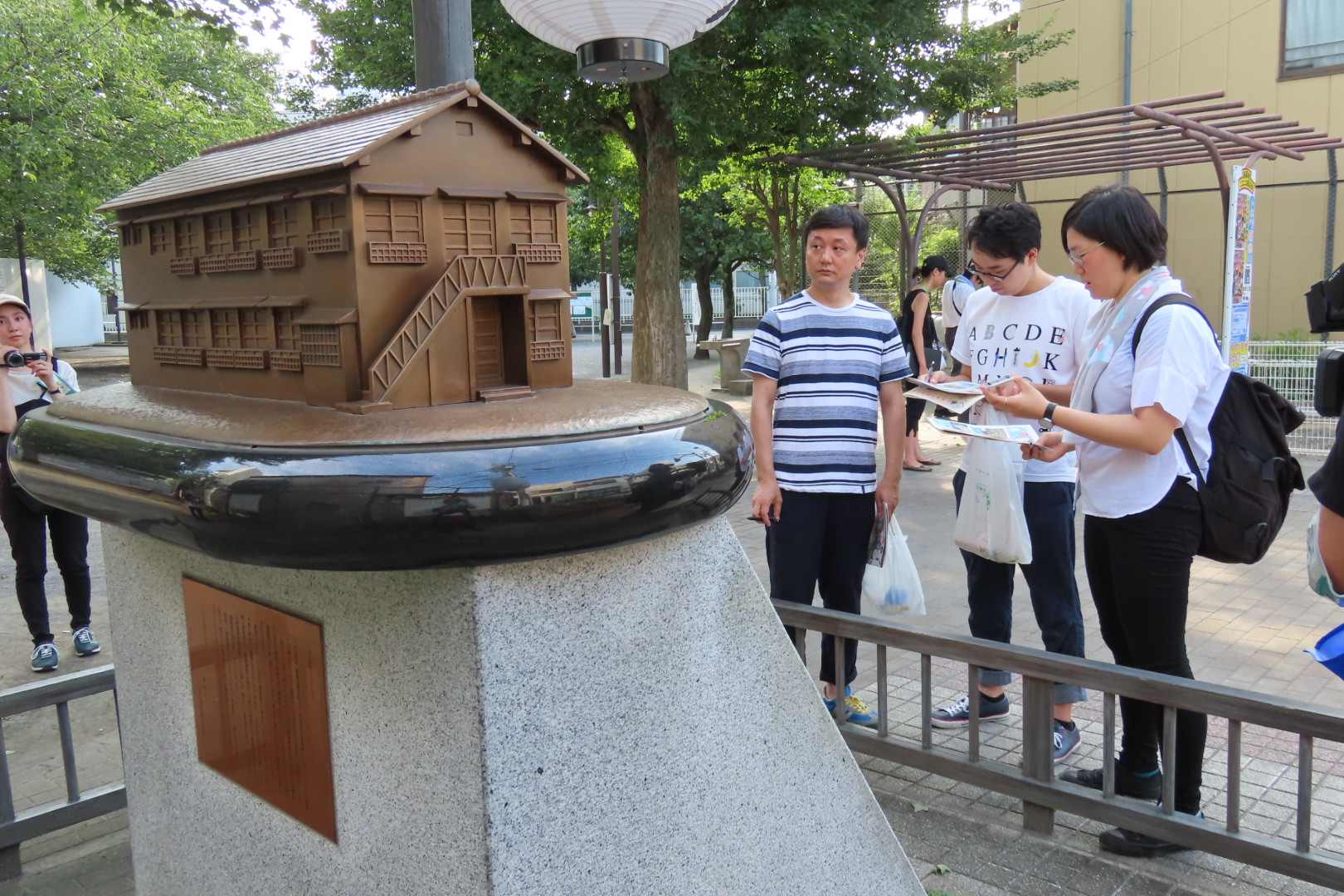 Osamu Tezuka, Hiroo Terada, Fujiko F. Fujio … Tokiwa-so is a legendary apartment that has produced many Showa manga artists. Tokiwa-so was demolished due to aging in 1982, but in March 2020, the "(Tentative name) Manga sacred place and Toshima Museum" was established as a facility to convey Tokiwa-so's manga culture. It is scheduled to open. Toshima Ward is promoting efforts in cooperation with the local community, such as the establishment of "Manga sacred place and monument" with the theme of the character of a manga artist related to the ward. This time, Minami Nagasaki area where Tokiwa-so was located. The "Mystery Walk Rally" will be held at. This time, from August 3 (Sat) to 9/29 (Sun), there will be a pre-experience tour of "Mystery Walk Rally Tokiwa-so's" Follow the Disappearing Owl !! "" I will tell you about it!
Mystery-experience × City walk
"Mystery walk rally Tokiwa-so's memory" Follow the disappeared owl! "" Is a "mystery" hidden in spots related to Tokiwa-so scattered around the city, while reading the instructions written in manga Solve the problem and aim for the goal. By strolling around the city while solving the mystery, you can get a deeper understanding of the "town where Tokiwa-so was", and if you can solve the last mystery, get a special clear file! It is a participatory event that can be enjoyed by children and adults. The manga of the directive is from Kentaro Fukuda , who is the first graduate of the "Shiunso Utilization Project" to support the manga artist's egg and is active as a manga artist and illustrator. It seems that he is also in charge of the design of Toshima City Citizens' Social Welfare Council characters (Fukujii, Fukumin), which is characteristic of cute and friendly designs. By the way, "Shiunso" is an apartment in which Fujio Akatsuka rented a room as a production place and still exists.
Let's walk "Manga sacred place"!
The streets of Shiina-cho and Higashi-Nagasaki, where the Showa manga artists lived, retain their original features, and you can feel the atmosphere of those days just by taking a walk. In addition, with the installation of the "Manga sacred place and monument" promoted by Toshima Ward, monuments and texts that show the history of Tokiwa-so can be found throughout the city. Furthermore, you can listen to the voice guide by reading the QR code of the order form with a smartphone, etc., and it is a program that allows you to learn the history of Tokiwa Villa naturally by taking a walk while having fun.
Minami-Nagasaki Hanasaki Park, where you have arrived around Shiina-cho and Minami-Nagasaki, is the planned opening place for the "(Tentative name) Manga sacred place Toshima Museum" . This mystery tour is also a part of this project to create a museum by restoring Tokiwa-so. "I want to convey the charm of Tokiwa-so not only to more people but also to young people living in this area. "It was planned from the thought of". It is exactly the center of this tour. "(Tentative name) Manga sacred place and Toshima Museum" faithfully reproduces the exterior of Tokiwa-so and the second floor where the manga artist lived, and stores valuable materials. What will be. The plan is currently being promoted by Ms. Satonaka Machiko, and special exhibitions and events are planned.
How difficult is it to solve mysteries?
"There are many difficult puzzle programs, but this time we aimed for elementary school children who can enjoy with adults (recommended age is junior high school students-adults). However, I think that it is a program that you can enjoy carefully, " said Director Yamauchi. The editorial department also challenged, but the honest impression is that "there is a lot of bone" regarding the difficulty. This time, Takayuki Tsujigata , a game designer who has planned and produced numerous games, puzzles, and werewolf events, was in charge of solving the mystery. Enthusiasm to make it an event that can be enjoyed as a puzzle is not just an extension of the mere stamp rally.
A trip to meet "Manga God"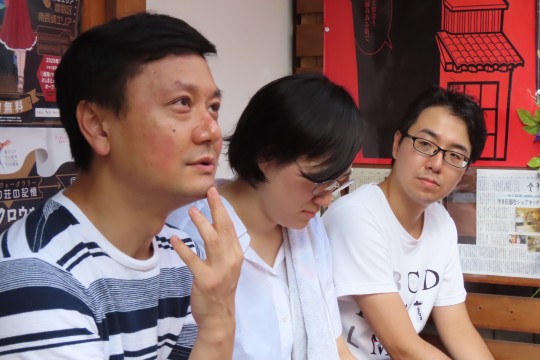 Finally, we asked participants about their impressions of this pre-experience tour. -How long did it take? It was about an hour and a half. I think that it was very good as time to experience the cityscape. There were various monuments at the end of the walk, and I realized the history of Tokiwa-so. I thought "walking" was a very important motif. -How was the difficulty level? It was easy to find the answer in the first half, but it seems to me that the difficulty level has increased since I came here (Tokiwaso Dori Rest Area) (laughs). It might be better for an adult to be together. However, because children are softer, it may be advantageous in terms of abundant ideas. Anyway, the process of solving is fun.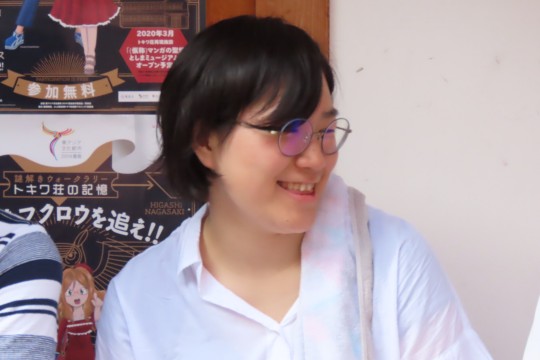 -How about this style of solving this while reading manga? It was easy to get on. There is also a map and a voice guide, so it was easy to see the next destination. You can enjoy this program alone, but I think it would be interesting to go to another spot in parallel. -Finally, what are the recommended points for this rally solving rally? Personally, I'm glad to be able to know the manga artists who lived at Tokiwa-so. I liked reading "Firebird", but I was often told that it was drawn in such an atmosphere. It is also attractive to feel the atmosphere of Toshima Ward, which is different from Ikebukuro.
---
Tokiwa-so where young people around the age of 20 worked hard to improve each other. Manga artists born from Tokiwa-so have created new manga techniques that have laid the foundations for today's manga. The "creative power" of Tokiwa Manga's manga artists, not to lose to the near-future AI. Why don't you go on a trip around the "sacred place" where you grew up while enjoying the puzzles?
Outline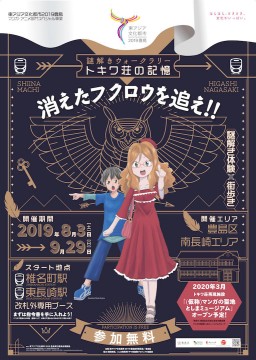 Mystery-solving walk rally Tokiwa-so's memory "Pursue the disappeared owl !!" [Date / Time] August 3 (Sat)-September 29 (Sun) There is a mystery that can be solved in some facilities. * Closed: August 5, 13, 19, 26, September 2, 9, 17, 24 * Premium exchange time: 10: 00-17: 30 (August 3 Until 16:00) [Venue] Toshima-ku Minami-Nagasaki Area Starting point: Shiinamachi Station (1-2-1 Nagasaki, Toshima-ku) Higashi-Nagasaki Station (1-1 1-1 Nagasaki, Toshima-ku) [Fee] Free [Recommended age] From junior high school students to adults * Elementary school students can enjoy together with parents [Organizer] East Asian Cultural City 2019 Toshima Executive Committee / Toshima Ward [Cooperation] Seibu Railway, Toshima Minami Nagasaki Tokiwaso Collaboration Project Council [Contents] ] Aim for the goal while solving "mysteries" hidden in spots related to Tokiwa-so scattered around the city! First, get a directive at the starting point, read through the manga, move to each spot and move to the mystery Let's solve the problem. Get the prize when the last mystery is solved! [Mystery Solving Production] Takayuki Magata Writer, Game Designer, Werewolf Evangelist. Has planned and produced numerous games, puzzles, and werewolf events. Gakken "Adult Science Magazine" "Science and Learning", Benesse "Children's Challenge", Ultimate Werewolf, Tahoei and Koshien. [Director's Manga Production] Kentaro Fukuda Manga artist illustrator. First-year student at Shiunso. Responsible for the design of Toshima City Social Welfare Council characters (Fukujii, Fukumin).