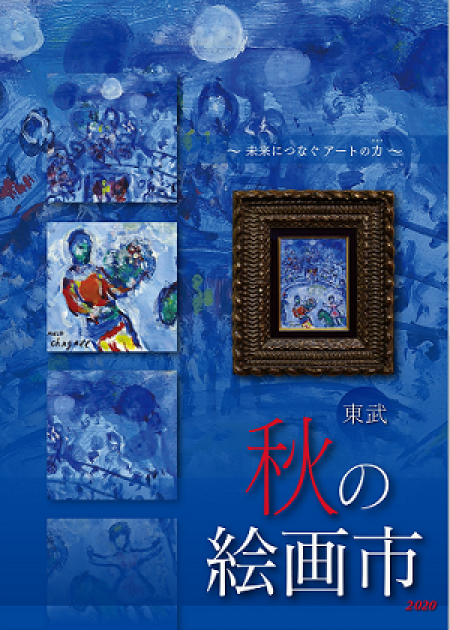 Use poster leaflet [Marc Chagall] "Blue Circus Clown and Horse Riding" (22 x 16 cm)
The 23rd "Tobu Painting Market" will be held at the 8th floor exhibition hall from October 15th (Thursday) to 20th (Tuesday) , 2020 at Tobu Department Store Ikebukuro Main Store. The Painting Market is held in April every year, and is popular as a large-scale event with sales scale following the World Watch Fair and the Hokkaido Exhibition as an event at Tobu Department Store.
While the "new lifestyle" is taking root, the demand for high-quality Jenaka (foodstuffs, kitchen utensils, furniture / interior, etc.) is increasing along with changes in lifestyle. In addition, paintings are attracting attention because they can change the atmosphere of the house by reviewing the way the family spends by cleaning up and remodeling during the stay home, and increasing the chances of showing the room remotely.
---
---
The theme of this painting exhibition is "The Power of Art to Connect to the Future", and in addition to the paintings of masters from Japan and abroad that everyone knows, about 1,500 contemporary artists with future potential will be gathered. In addition, as the first attempt, we will publish a video of the venue on the Ikebukuro main store website and announce it on the official SNS.
The maximum amount is over 100 million yen, domestic and foreign master works
Marc Chagall, 35 years after his death, Tsuguharu Fujita, who was highly acclaimed in France, Reiji Hiramatsu, who held the first large-scale Japanese art exhibition in Giverny, France, Shiko Munakata, and other museum-class masterpieces representing the art world. We will develop to acquire new painting fans as well as wealthy people such as foreign customers.
For new customers, works that connect the present to the future of art!
For a living room where you spend time with your family, or as a remote background for work or friends. As a fun and easy-to-decorate interior. Prices start at 150,000 yen, and we propose this as an opportunity for customers who have never been familiar with painting, such as families and business people, to incorporate it into their daily lives.
In addition, the artist himself can visit and listen directly to his commitment and concept. (Visit time 1:00 pm to 5:00 pm)
Don't miss the opportunity to exhibit a lot of contemporary works from overseas such as Banksy and Basquiat!
Anyone, anywhere, can touch high-quality art works!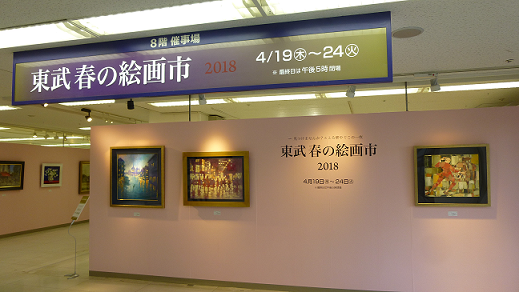 We will publish a video of the painting market on our website. Introducing multiple artists and booths, including Marc Chagall and Reiji Hiramatsu, who are attracting attention this time, and updated as needed (starting on October 15). Even those who seem to have a high threshold in a large-scale painting market can know the works and the state of the venue in advance. We believe that many people will be able to get familiar with art at the event venue of the department store, which is open and you can drop in.
Tobu Autumn Painting Market 2020 Overview
◇ Theme: "The power of art that connects to the future"
◇ Date: October 15th (Thursday) to 20th (Tuesday) 10:30 am to 7:00 pm
◇ Meeting place: Ikebukuro main store 8th floor exhibition hall (450 tsubo)
◇ Admission: Free
◇ Products: Approximately 1,500 items