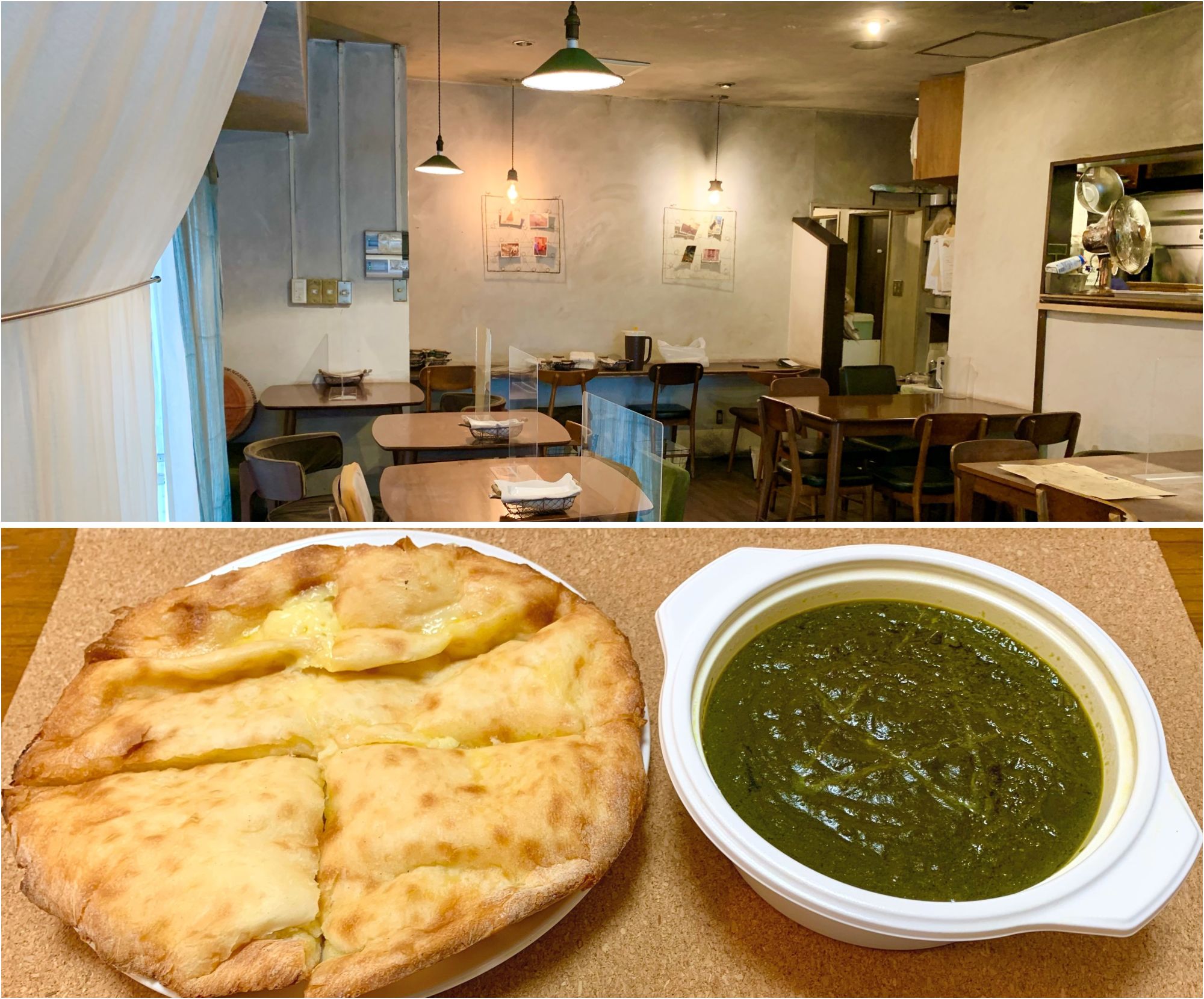 The editorial writer (author) of Kokoshiru Ikebukuro often eats lunch and dinner and takes out in Ikebukuro after researching city information.
Up until now, even if I came across delicious food, I would have done it with "It was delicious, let's go eat again", but I thought that it would be a support for restaurants that are struggling with the corona virus, so in the future Kokoshiru Ikebukuro I decided to introduce it in!
The title of the series article is the same as [Ikebukuro Gourmet Discovery Department], but I will update it freely, so please read it if you like. (Considering whether it will be the official title)
Introducing the first time, "Sag Chicken Curry" (850 yen including tax) and "Cheese Nan" (550 yen including tax ) that can be taken out at Putali Cafe , a curry and Nepalese restaurant in Higashiikebukuro. Yen) .
Putali Cafe, a curry and Nepalese restaurant
Putali Cafe is located right next to Teikyo Heisei University Ikebukuro Campus, just a 10-minute walk from the east exit of JR Ikebukuro Station. Although I have passed in front of the shop many times, I have missed the timing so far, but I finally want to eat curry and naan, so this is my first visit.
When I visited the store, it seemed that the building containing the store was under renovation, but as the name suggests, the interior was fashionable like a cafe. It seems that I can spend a relaxing time, so I took out this time because I am declaring an emergency, but next time I would like to have food in the store.
This is the take-out menu table for dinner time.
According to the owner, although the type of menu is limited at lunch time, you can take out at a reasonable set price only for lunch. That's why the amount of curry is a little large at dinner time.
Other than curry and naan, Nepalese dumplings like "Momo", which is very popular with Nepalese, spicy "Tandoori chicken" and "Chicken tikka", dessert "Momo" loved by children and adults It seems that "Chii ice cream" etc. are selling well.
Take out "Sag Chicken Curry" and "Cheese Nan" from Putali Cafe!
At first, I was planning to simply order the standard "chicken curry", but I chose "sag chicken curry" because it has a more mellow and rich taste than "chicken curry". A green curry with spinach paste. I was very hungry there, so I tried to add "cheese naan" which seems to be more voluminous than ordinary naan.
The curry is medium spicy, which is just right for me. (You can choose from Hikaeme, Medium spicy, Dry, Super spicy, and more.) After returning home, I had them warm up a little.
First of all, "Sag Chicken Curry" was finished with a fairly mild taste thanks to spinach. There is no punch, but the garlic is firmly in the condensed flavor. The depth of richness seems to be the power of cashew nuts. Unlike the visual impression, there is no green odor of spinach. Rather, it seems to have been sweetened.
The overall saltiness and spiciness of the spices are moderate, and unless you are not good at spicy foods, it will be medium spicy and will work fine. In a good way, it had no habit of taste and was honestly delicious. The large chicken was crispy, soft and unraveled in the mouth.
"Cheese Nan" has a slightly sweet dough and a simple flavor of wheat flour. This is a level that you can enjoy by itself, but the sweetness of the dough and the mellowness of the cheese go well with the saltiness of the curry. I can't stop eating. I expected it to be a combination without any mistakes before the actual meal, but I felt that it did not disappoint and complemented each other's goodness to the maximum.
The chewy dough is packed with cheese, so it's more delicious than it looks. If I could eat it, I would be hungry … I thought that the price was 550 yen, which was a little expensive, but I was satisfied with this price. I am very satisfied!
Mr. Putari Cafe has a reputation for curry art that draws cute illustrations with fresh cream on curry on SNS and gourmet sites, and it is also a specialty of the shop, but if it is a takeout, it will be drawn on the lid. The picture drawn on the curry will collapse while you take it home, so this kind of casual care and playfulness is wonderful.
It was the first time I visited this shop, but I was happy because it filled my stomach and heart. I would like to visit you again soon. Thank you, Putali Cafe!
"Putali Cafe"
Street address
2-50-1 Higashiikebukuro, Toshima-ku, Tokyo Kato 7th Building 1F
phone number
03-5396-0313
business hours
* As of February 28, business hours are being shortened due to a state of emergency.
Lunch 11: 00-15: 30
Dinner 17: 30-20: 00 (Take out until 21:30)

Please check the store blog or Twitter account for the latest information.

Official blog
https://ameblo.jp/putalicafe/
Official Twitter
https://twitter.com/putalichan2010
* The information in the article is as of the date of publication.