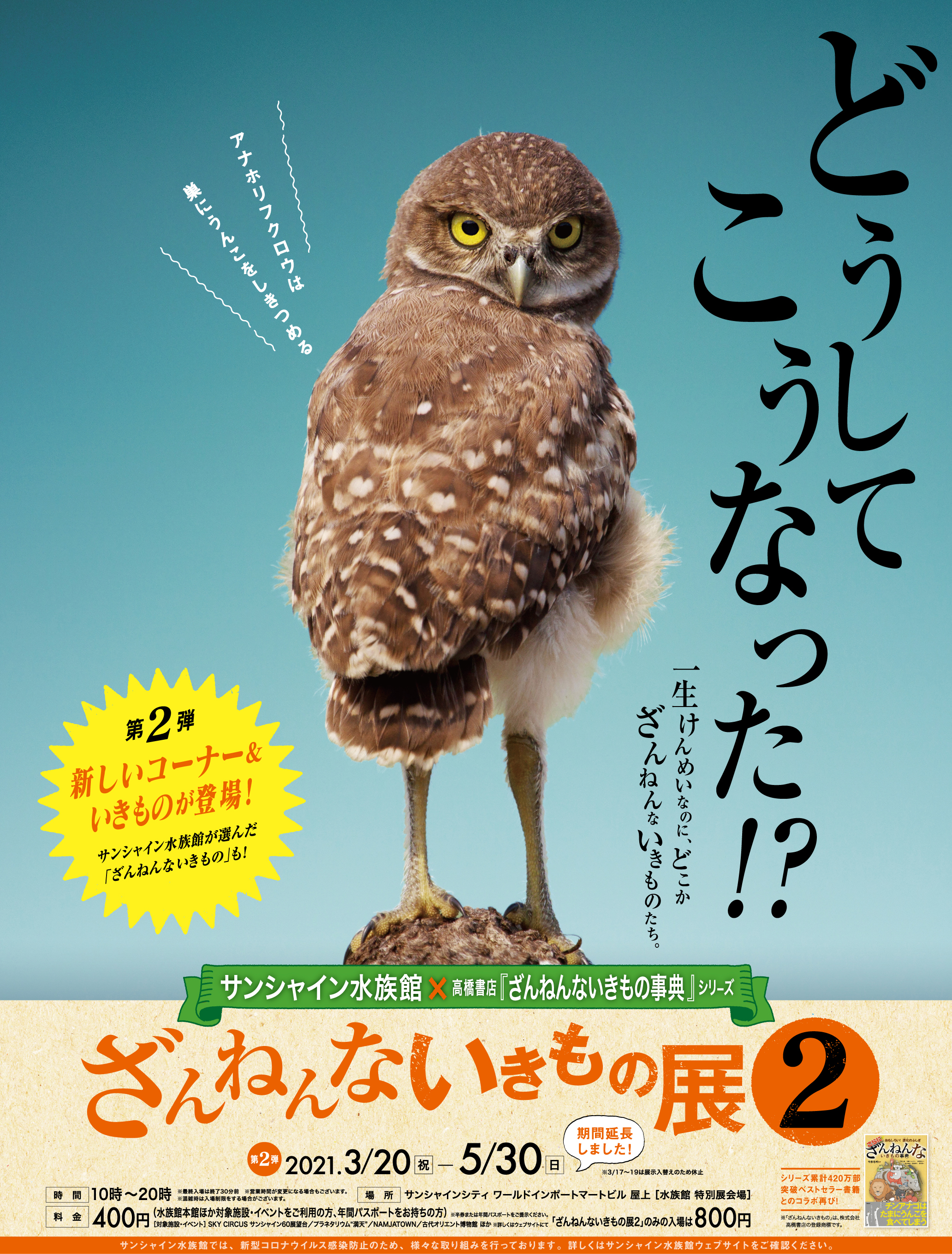 The holding period has been extended from March 20th (holiday) to May 30th (Sun)!
Sunshine Aquarium (Ikebukuro, Tokyo) has been holding a collaboration exhibition "Zannennai Kimono Exhibition 2" with the book "Zannennai Kimono Encyclopedia" series, which has been held since October 2020. Will be held from March 20th (holiday) to May 30th (Sun).
We have extended the holding period to May 30th (Sun) in view of the situation where there are some customers who have had to cancel their visit due to stricter restrictions on movement due to the corona disaster.
From the first installment held until March 16th (Tuesday), there are 5 types in 5 corners: "Zannen body", "Zannen ability", "Zannen way of life", "Amazing but Zannen", and "Zannen commitment". The exhibition has been renewed. In addition to that, "Zannen na Name" has been added to the lineup as a new corner, divided into a total of 6 corners, where you can enjoy the world view of books and the exhibition of creatures. A total of eight species, including Kissing Gourami and Redtoothed Triggerfish, selected by the Sunshine Aquarium staff, are completely original "Zannennai Kimono".
Original products limited to this collaboration exhibition are also on sale! Please take this opportunity to visit the Sunshine Aquarium.
・ Outline of the event
● Official name ●
Sunshine Aquarium Special Exhibition "Sunshine Aquarium x Takahashi Shoten" Zannennai Kimono Encyclopedia "Series Zannennai Kimono Exhibition 2"
● Date and time ●
1st: October 30, 2020 (Friday) -March 16, 2021 (Tuesday) 10: 00-18: 00 <End of session>
2nd: March 20th (holiday) -May 30th (Sun), 2021 10: 00-20: 00
* Last admission is 30 minutes before the end. * Closed from March 17th (Wednesday) to 19th (Friday) due to exhibition replacement
---
---
● Venue ●
Sunshine Aquarium Special Exhibition Venue
● Fee ●
800 yen (400 yen when presenting the Sunshine Aquarium / Sunshine 60 Observatory ticket)
* Admission may be restricted depending on congestion.
* 400 yen for those who use the main aquarium, those who have an annual passport for the aquarium / observatory, and those who use the target facilities (* 1) / events.
(* 1) SKY CIRCUS Sunshine 60 Observatory, Konica Minolta "Manten", Ancient Orient Museum, Nanja Town, etc.
・ [Example of creatures to be exhibited] New corner "Zannen na name"
● Takahanodai
Takanohadai is called "Shonventare" in some areas !?
● Honsome Wake Bella
Ho down Somewakebera've been wrong is supposed to be registered in the e-Soviet Somemewakebera
● Remora
The remora is named shark, but in fact …
・ [Example of creatures to be exhibited] New creatures will appear in other corners!
● Kissing gourami males just kiss
There are times when two animals face each other and act as if they are kissing with their mouths facing each other, but it is not a lovely behavior like courtship behavior, but actually a struggle behavior.
● Gichibera has a straw in her mouth every time she eats
At first glance, it looks like a small mouth, but when it finds a prey such as a shrimp or a small fish, it instantly stretches its mouth, closes the distance to the prey at once, and inhales and preys on it. The part that stretches is usually folded.
● Redtoothed triggerfish is not red
The origin of the "red" part of the name is actually teeth. Originally it was supposed to be named "Redtoothed triggerfish", but it seems that it has become "Redtoothed triggerfish" by mistake. By the way, the reason why the teeth are red is unknown.
● Burrowing owls squeeze poop in their nests
He lives in an underground hole rather than on a tree, and squeezes other animal poop on the floor of the burrow. This makes it possible to keep the burrow warm like floor heating.
・ Introduction of original goods
● Amezaiku Harisenbon / Amazon horned frog ¥ 810 each
Amezaiku made with attention to detail. There are two types, the Amazon horned frog, which is also shown in the first poster, and the porcupinefish, which actually has no thousand needles.
● Character Clip Ballpoint Pen Degu / Harisenbon ¥ 350 each
A ballpoint pen with an illustration of porcupinefish and degu drawn on the clip part. It's perfect for everyday use and is recommended for yourself or as a small gift.
● Konpeito Mokuzushoi / Beadlet anemone / Haripeito ¥ 499 each
We sell 3 types of konpeito that are colorful and cute. The taste is different depending on the type, so please try and compare them.
● Pocket mini towel Amazon horned frog / Harisenbon ¥ 560 each
A towel with an outstanding impact with a design that includes various comments. It is a convenient size that fits in your pocket or small bag.
What is "Zannennai Kimono Encyclopedia"?
The things that aren't good are the ones that aren't good for the rest of your life. Introducing the "unexpected side" of creatures that has not been talked about much in previous books. It feels a little sloppy … but the content makes the creatures even more lovable when they know that they are living hard for the rest of their lives. The first "Zannennai Kimono Encyclopedia" ranked first in the "Children's Book" general election twice in a row. The cumulative total of the series has exceeded 4.2 million copies. In late April 2021, the 6th series "Encyclopedia of Masuzan Nennai Kimono" will be released. (Published by: Takahashi Shoten)
* "Zannennai Kimono" is a registered trademark of Takahashi Shoten Co., Ltd.
[For inquiries about books, please contact Takahashi Shoten (TEL: 03-5957-7061)]
————————————————– ———-
■ Overview of Sunshine Aquarium
Location: 3-1 Higashiikebukuro, Toshima-ku, Tokyo Sunshine City World Import Mart Building / Rooftop
Business hours: 10: 00-18: 00, 9: 30-21: 00 (March 20, 2021-September 7, 2021)
* Last admission is 1 hour before the end * Subject to change
Admission: Adults (high school students and above) 2,400 yen, children (elementary and junior high school students) 1,200 yen, infants (4 years old and above) 700 yen
* Subject to change
Contact: Sunshine Aquarium 03-3989-3466
URL: https://sunshinecity.jp/
————————————————– ———-
* There is also a specimen display for some of the exhibited creatures.
* Contents and schedule may change depending on the situation.
※The image is an image. * All prices include tax.