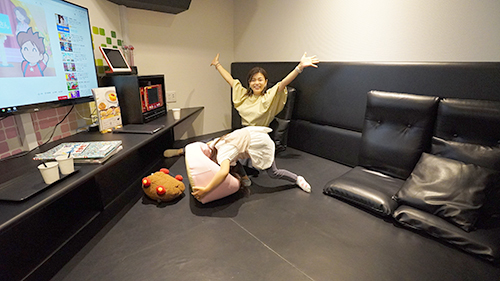 Internet & manga cafe "DiCE" (Dice) Ikebukuro area 3 stores (Ikebukuro store, Ikebukuro north exit store, Ikebukuro west exit store) operated by City Communications Co., Ltd. It is free to use.
We would like mothers with small children to use DiCE more, so we will change the target age for free of charge from children under 5 years old to children under elementary school age.
"Internet cafe with children" is not well known as a place to go out, but it is popular with mothers who actually used our shop, and the main reason is that it is a "soundproof private room". increase.
[DiCE soundproof private room point]
① Even if your child makes a noise, it will not bother others.
② The seat is made of soft urethane mat, so it is okay for children to run around and fall.
③ Since the room has a flat structure, visibility is high and you can always know where your child is.
④ The room can be locked even if you take your eyes off.
⑤ Enjoy karaoke, watching movies and videos on a 40-inch monitor (excluding the Ikebukuro West Exit store)
Another reason is that you can use our services (free drinks, all-you-can-eat free soft serve ice cream with a sense of the seasons, online games, a large number of comics and magazines) in a comfortable space.
<Notes>
・ You will also need to register as a member of your child, so please bring your health insurance card, my number card, etc.
・ From 10 pm to 5 am the next morning, we do not allow use even if accompanied by a guardian.
[Reliable points for moms 3.3m x 2.0m Soft urethane mat VIP room]
The room where you can enjoy karaoke and movies mentioned in ⑤ above is a VIP room with soundproof private rooms. The seats in the VIP room are made of soft urethane mats with a size of 3.3m x 2.0m, so even small children who cannot walk firmly can play comfortably and comfortably. Also, considering the safety of the customer, the edge of the desk is rounded with rounded corners, which is a point that you can rest assured.
The VIP room can accommodate up to 6 adults. In addition to being used by parents and children, there are also many people who use it in groups such as Mama Yukai. And, there are three major bottlenecks when going out with children, such as changing diapers, baby food, and strollers, but if it is a VIP room, it is also possible in terms of space.
① [Two people can watch movies and videos]
You can enjoy powerful images on a 40-inch monitor. Since there are two PCs and a monitor, you can see the images for children and mothers separately. Mothers can watch videos while wearing headphones, so they can watch their favorite movies next to their children.
② [Karaoke is also possible]
Some rooms have karaoke, taking advantage of the characteristics of soundproof private rooms. You can sing as much as you want while eating free drinks and soft serve ice cream.
Kids can get bored quickly, but there are plenty of other content to play with, so it's okay!
③ [You can also eat (you can bring it in)]
The Ikebukuro store also offers meals, and the system is such that more than 40 types of menus can be ordered from the PC in the room and delivered to the room.
You can bring in baby food, snacks, and other food and drink, and each floor is equipped with a microwave oven that is convenient for making baby food and milk.
[You can see how parents and children are actually using this video]
■ DiCE Ikebukuro store store overview
https://www.diskcity.co.jp/shop/ikebukuro/
Location: 1-11-11 Higashiikebukuro, Toshima-ku, Tokyo White City Building 2F-10F
Phone number: 03-5944-9202
Number of seats: 251 VIP room (59 seats) Karaoke room (11 seats)
Approximately 100 types of free drinks Comic: Approximately 150,000 books
* A kids' corner is available on the 9th floor. We rent picture books and chairs for children free of charge.
■ DiCE Ikebukuro North Exit Store Overview
https://www.diskcity.co.jp/shop/ikebukuro2/
Location: 1-43-12 Nishiikebukuro, Toshima-ku, Tokyo YK-14 Building 5F-6F
Phone number: 03-5944-9098
Number of seats: 88 seats All rooms are completely private karaoke rooms (7 seats)
Approximately 50 types of free drinks Comic: Approximately 35,000 books
■ DiCE Ikebukuro West Exit Store Overview
https://www.diskcity.co.jp/shop/ikebukuro3/
Location: 3-30-13 Nishiikebukuro, Toshima-ku, Tokyo Kishino Building 3F
Phone number: 03-6912-7404
Number of seats: 73 seats All rooms are completely private rooms (there is a women-only area)
Approximately 50 types of free drinks Comic: Approximately 20,000 books
■ Internet cafe "DiCE"
"DiCE" is an internet cafe that has been operating mainly in the Kanto region since 2000. It has been well received by many female customers because of its high quality and cleanliness. In addition to abundant magazines / comics and free drinks, there are also plenty of seasonal soft serve ice cream and authentic coffee servers. In addition to the VIP room, which is a completely private room ideal for group use, you can also enjoy amusement content such as darts, karaoke, and e-sports. An internet cafe that evolves daily to meet the needs of the times.
▼ DiCE official HP https://www.diskcity.co.jp/