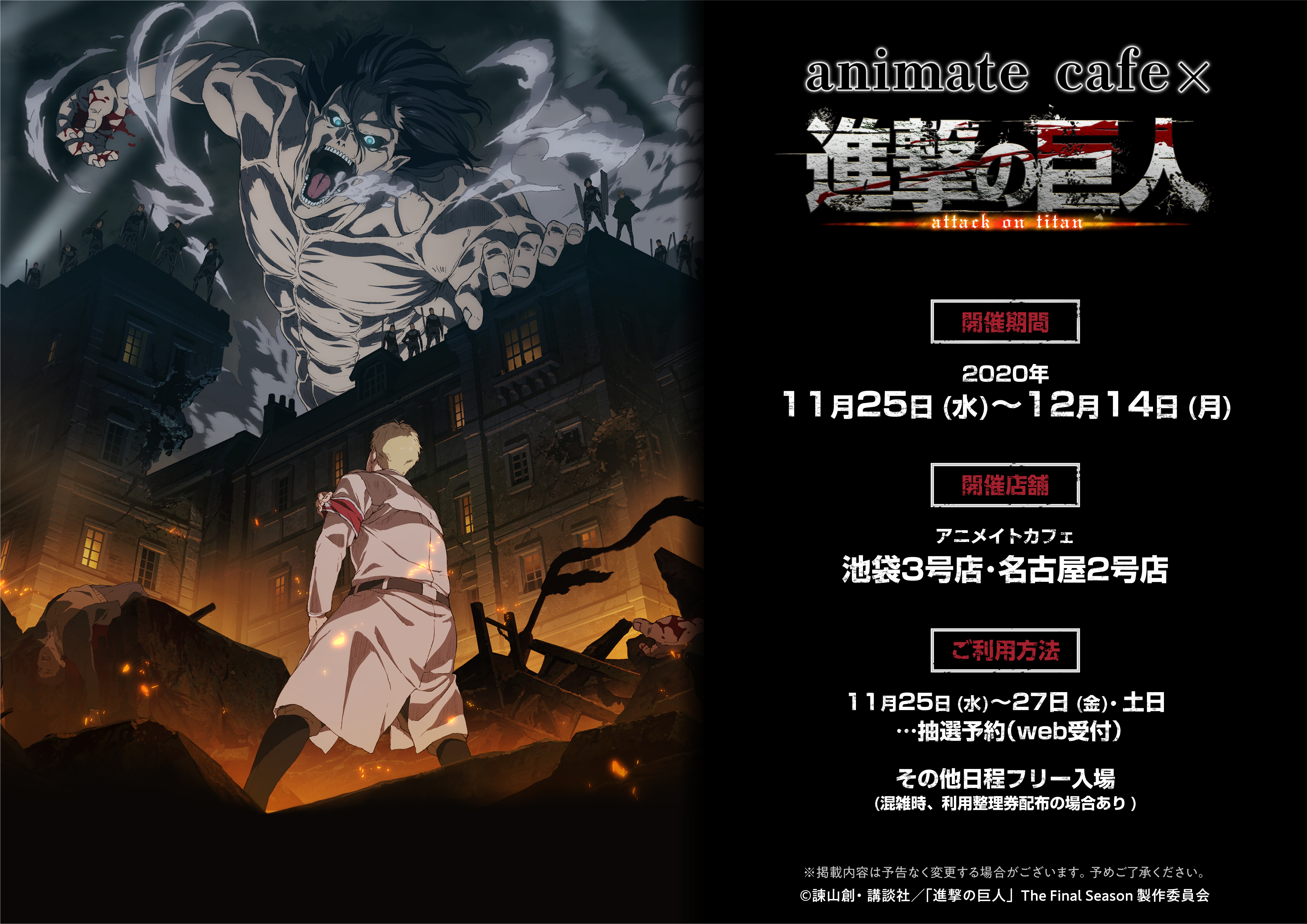 Held for a limited time from November 25th to December 14th
Animate Cafe Co., Ltd., which develops collaborations with popular anime and game works, will open a collaboration cafe with the TV anime "Attack on Titan" The Final Season from November 25th at Animate Cafe Ikebukuro 3rd Store and Nagoya 2nd Store. We will hold it. At the collaboration cafe, you can enjoy a collaboration menu with the image of your work, and also sell original goods.
Work introduction
"Attack on Titan" is a manga work by Hajime Isayama, which is serialized in "Bessatsu Shonen Magazine". TV animation started broadcasting in 2013, and in the same year, the movie version "Attack on Titan" first part ~ Guren no Yuya ~, and in 2015 the movie version "Attack on Titan" second part ~ Wings of Freedom ~ were released. After that, the TV anime series and theatrical version were produced, and it is a popular work of the topic. From December 2020, the TV anime "Attack on Titan" The Final Season is about to start broadcasting and is attracting attention. Animate Cafe has collaborated with the same work three times in the past from the TV anime "Attack on Titan" season2, and this is the fourth time it has been held.
Newly drawn illustrations, drawn mini character illustrations
Menu introduction
● From the collaboration cafes held in the past, we will hold a popularity vote for successive "Minshu" menus!
You can enjoy the top menu at this collaboration cafe.
・ [Min reprint menu] …… It's been 5 years since then… Super large hamburger steak & mother's handmade stew / 1,000 yen
・ [Min Attack Reprint Menu] Elenge & Bertalt / 750 yen
・ [Min Attack Reprint Menu] Hange's Experimental Drink / 600 yen
・ [Min Attack Reprint Menu] Hurry to Ellen's death Drink / 600 yen
-In the new menu, you can also enjoy the cakes and drinks that Ellen and Hange have drawn!
・ The Final Season Rose special cake / 750 yen
・ Gorgeous champagne jelly / 600 yen
Menu order benefits
・ Coaster / Group A 7 types / Group B 10 types
Original goods
・ BIG acrylic stand / 1,600 yen / 4 types in total
・ Trading tin badge / 400 yen / A group all 6 types / B group all 7 types / C group all 4 types
・ Print cookie / 1,000 yen / 1 illustration card / 4 types in total
campaign
event information
【event name】
Animate Cafe x TV Anime "Attack on Titan" The Final Season
[Holding period]
November 25, 2020-December 14, 2020
[Holding store]
Animate Cafe Ikebukuro 3rd store
Animate Cafe Nagoya 2nd store
[How to enter]
November 25th-November 27th, Saturdays and Sundays … Lottery reservation (WEB reception)
Other dates … Free admission
* Numbered tickets may be distributed depending on the congestion of the store even at the time of free admission.
【Special page】
https://cafe.animate.co.jp/event/shingeki2011/
[Right notation]
© ️ Hajime Isayama / Kodansha / "Attack on Titan" The Final Season Production Committee
About infectious disease spread prevention measures
We will take the following measures with the utmost consideration for the safety and health of our customers and employees. In addition, in order to protect the safety of our customers, please be sure to understand and understand the following before making a reservation or visiting our store.
[About measures for business stores]
・ All employees are obliged to manage their physical condition and temperature, and wear masks at all times during work.
-A vinyl sheet is installed in front of the cash register to prevent droplets from scattering.
・ For stores where safety structure is possible, open windows and entrances, install air purifiers in all stores, and keep them in operation at all times.
・ All stores are disinfected by specialists during the period of self-restraint.
[Request to customers when visiting]
・ Please be sure to wear a mask when you come to the store. We do not allow customers who do not wear it.
・ When you come to the store, we will measure the temperature with a non-contact thermometer.
・ Please wear a mask except when eating or drinking. Please talk over the mask.
・ In order to ensure the distance and safety between customers, we may restrict our actions. Please be sure to follow the guidance display on SNS and stores / stores and the instructions of employees.
・ Service content may differ from normal business hours.
・ If any act that causes inconvenience to other customers or interferes with the operation is found, the store may be closed and future use may be refused.
For other details, please check the Animate Cafe official website ( https://cafe.animate.co.jp/news/important/125716/ ).
Precautions
* The image is an image
* All prices include tax
* Please check the Animate Cafe official website for details on how to enter.
* The date and time of the event and the admission method are subject to change.
* Contents are subject to change, postponement, or cancellation without notice.