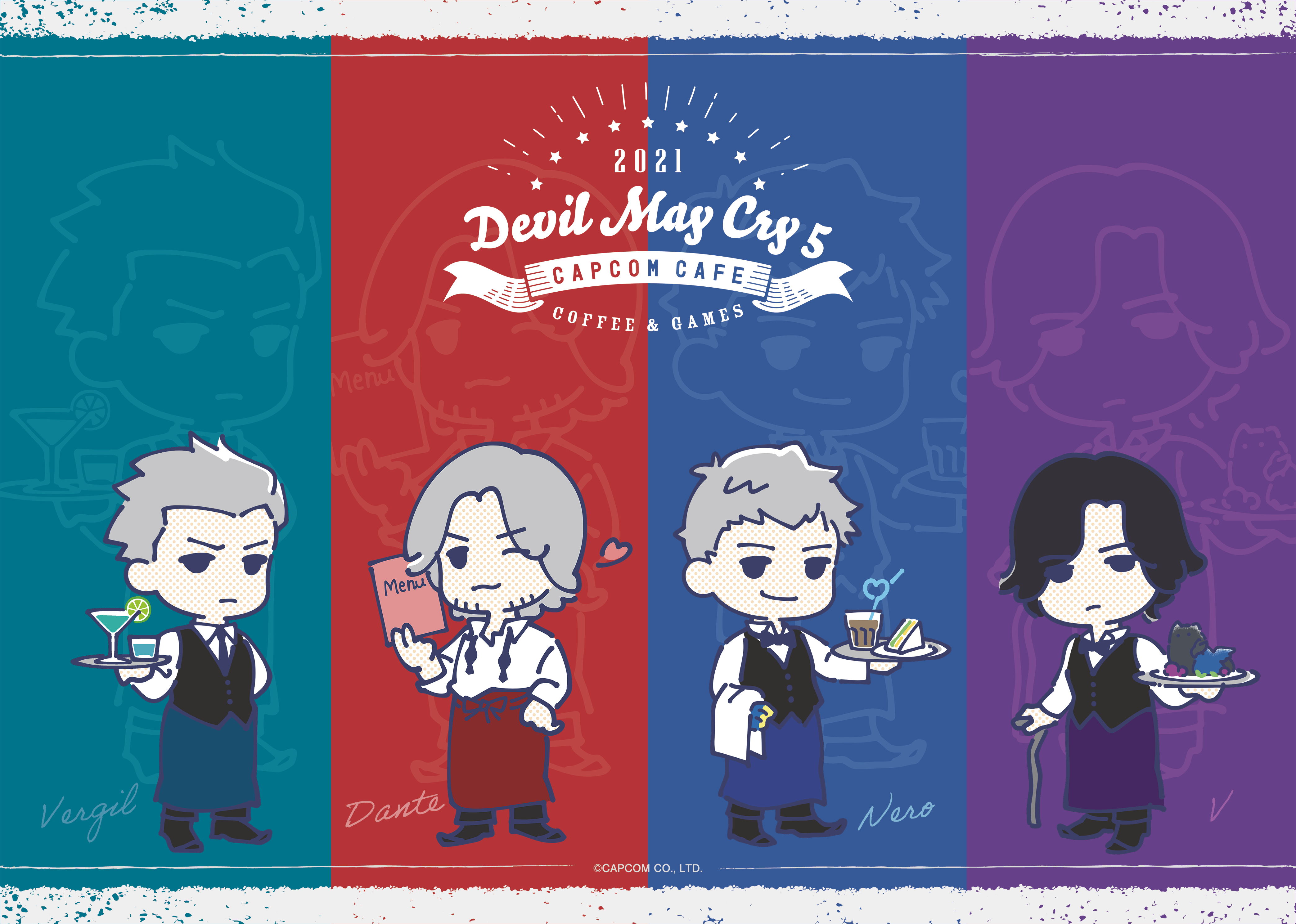 Capcom Co., Ltd. [Information related to Capcom stores]
During the period from July 16th (Friday), 2021 to September 2nd (Thursday), 2021, we held a collaboration to develop the menu and goods of "Devil May Cry 5" at the Capcom Cafe Ikebukuro store in Q Plaza Ikebukuro. I will.
Details such as menus and goods will be announced at a later date, so please wait for the follow-up report.
* The event will be held after taking measures to prevent infection with the new coronavirus.

■ Click here for the main visual of the "Devil May Cry 5" collaboration!
The main visual this time is an illustration unique to Capcom Cafe, in which Nero, Dante, V, and Vergil are dressed in cafe costumes and drawn as American retro art.
Currently, we are working hard on collaboration menus and collaboration goods based on this main visual.
Stay tuned for future information!
■ Capcom Cafe Ikebukuro store "Devil May Cry 5" collaboration announcement site
https://www.capcom.co.jp/amusement/capcomcafe/ikebukuro/topics/-5-6.html
■ Reservation system
"Capcom Cafe" is also accepting "online reservations" to prepare seats in advance. This is accepted from the official website of "Capcom Cafe". We look forward to your visit.
https://reserve.resebook.jp/resty/webrsv/rsv_vacants/vacant/s014341101/20190/0615?fixshop=1
■ Outline of "Devil May Cry 5" collaboration ■
・ Store: Capcom Cafe Ikebukuro
・ Location: 1-30-3 Higashiikebukuro, Toshima-ku, Tokyo Q Plaza Ikebukuro 3F
・ Inquiries: 03-5904-9106
・ Period: July 16th, 2021 (Friday) -September 2nd, 2021 (Thursday)
・ Official website: http://www.capcom.co.jp/amusement/capcomcafe/ikebukuro/
・ Cafe official Twitter: https://twitter.com/Capcom_Cafe/
・ Cafe official Instagram: https://www.instagram.com/capcomcafe/
© CAPCOM CO., LTD. ALL RIGHTS RESERVED.