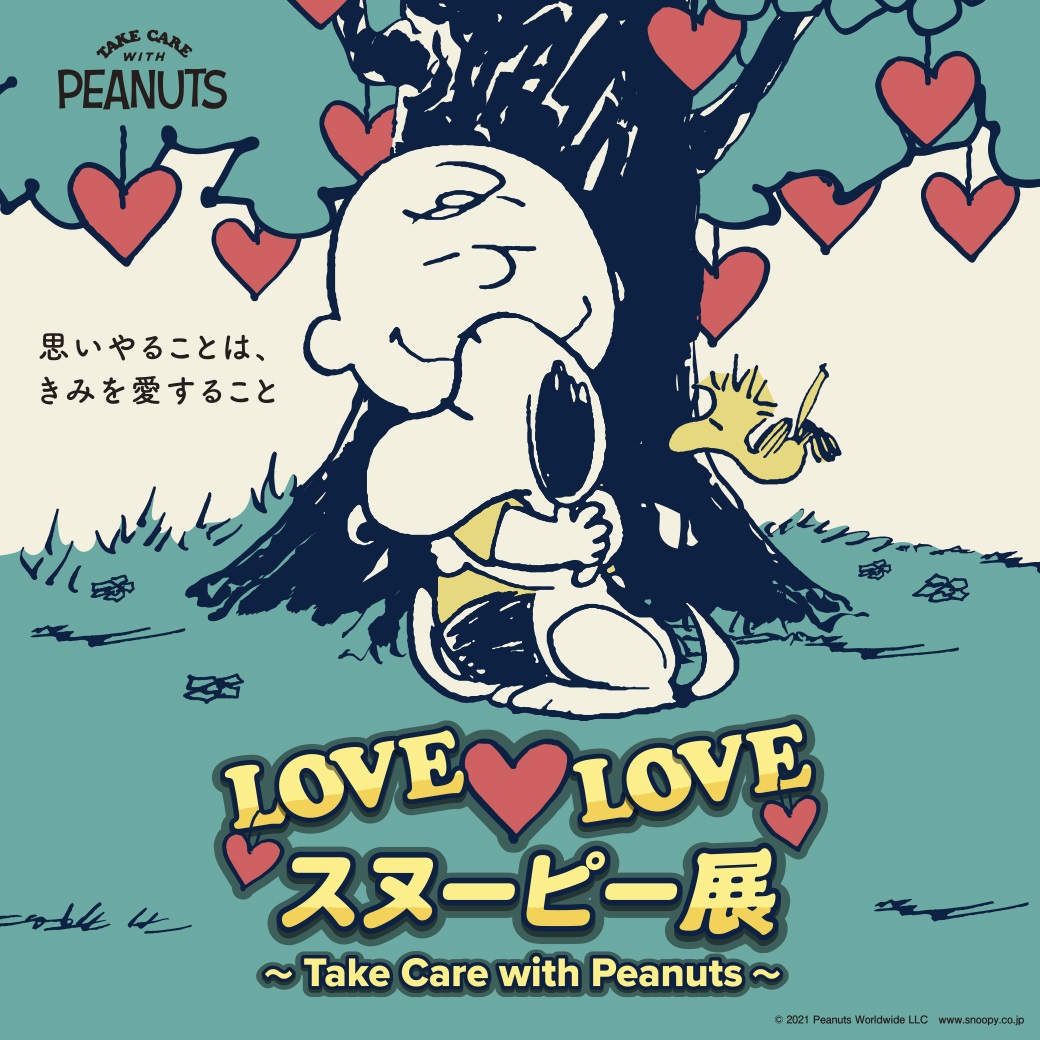 To myself, to each other, and to the earth. Expand your circle of compassion with your PEANUTS friends.
■ Session: December 8th (Wednesday) -29th (Wednesday), 2021
■ Opening hours: 10:00 am to 8:00 pm
* Admission is 30 minutes before closing time each day.
* On the final day, December 29th (Wednesday), only the venue will be closed at 4:00 pm
■ Venue: Seibu Ikebukuro Main Store Annex 2nd Floor = Seibu Gallery
■ Admission: General / university students 500 yen (free for high school students and younger)
* Organizer: LOVE LOVE Snoopy Exhibition Executive Committee
* Planning and production: Movic Promote Service Co., Ltd.
© 2021 Peanuts Worldwide LLC
Seibu Ikebukuro Main Store will hold "LOVE LOVE Snoopy Exhibition-Take Care with Peanuts-" for the first time in Japan. "PEANUTS" depicts the importance of environmental issues, love, and compassion from the perspective of Snoopy and his friends. It is an event where you can feel such a warm feeling. The exhibition space will be developed under the three themes of "Yourself", "Each Other", and "The Earth". At the end of the exhibition, there will be a "Kindness Tree" created from the messages sent by the visitors. In addition, at the "Heartful Market", which is full of commemorative goods that make you smile every day, you can enjoy shopping as about 1,000 items such as event commemorative goods are gathered.
・ Three themes, "Yourself", "Each Other", and "The Earth"
1, entrance
Charlie Brown and Snoopy welcome you with the original song "Take Care" that makes you want to hum every day.
2, YOURSELF (I love myself)
Introducing unique and unhateable characters.
3, EACH OTHER (caring for each other)
We will introduce the relationship between characters with gimmicks and photo spots.
4, THE EARTH (cherish the earth)
Reproduce the scene that feels nature that appears in comics. Experience a relaxing time.
5. Kindness tree
An exhibition of "Kindness Trees" that decorate the heart that is born every time you are kind to someone. Please write and paste a message on the three themes of the event, "Tree of Kindness". Increase your heart with your "LOVE".
・ Heartful market
The event commemorative goods that first appeared in Japan will feature about 1,000 items that will make you smile every day with a relaxing LOVE-filled visual.
■ Product example * All prices include tax.
<Event commemorative goods>
A lot of LOVE visuals make you feel at home.
● Gentle wood acrylic key chain [left] (approx. Vertical 7.0 x horizontal 6.7 cm) 770 yen
● Acrylic character charm [right] (4 types in total) 693 yen each
Combine your favorite characters
● Memo pad (A6 size) 715 yen
● Clear file (A4 size) 440 yen
<Event commemorative goods>
TAKE CARE of YOURSELF
Relax with Snoopy
● Die-cut cushion (approx. 50 x 50 cm, 2 types in total) 3,630 yen each
● Fabric poster (100% cotton, approx. 29.7 x 42.0 cm, 2 types in total) 1,650 yen each
Stick it on the wall or hang it on furniture
<Event commemorative goods>
TAKE CARE of EACH OTHER
A gift you want to give to someone
● Aroma candle (approx. Diameter 9.3 x height 6.5 cm) 2,860 yen
● Kawara senbei (1 can, 12 pieces, can size: approx. Vertical 14.8 x horizontal 22.5 cm) 1,296 yen
<Event commemorative goods>
TAKE CARE of THE EARTH
Goods made of environmentally friendly materials
● Sprout pencil (approx. 19 cm, 1) 594 yen
If you plant a shortened pencil in the soil, it will sprout.
● Fair Trade Cotton Tote (approx. Vertical 38 x Horizontal 37 cm) 1,540 yen
・ Purchase gift
During the exhibition period, the first 200 people who purchase over 5,000 yen including tax once at the venue will receive one "cotton gift bag (drawstring type, 4 types in total)" on a daily basis.
* You cannot choose the type. * Limited to 1 item per person per day. * Receipts cannot be added up. * It will end as soon as it runs out.
/ /
Reference materials
What is "peanut"?
The Peanuts character and related intellectual property rights are owned by Peanuts Worldwide, 41% by WildBrain, 39% by Sony Music Entertainment Inc., and 20% by Charles M. Schultz's family. .. Charles M. Schultz first introduced his "peanut" companions to the world in 1950. It was when "Peanuts" made their debut on seven newspapers. Since then, Peanuts gangs, including Charlie Brown and Snoopy, have left an immortal footprint in pop culture. In addition to the peanut shows and specials that are familiar to Apple TV +, fans around the world will find a wide variety of products, amusement park attractions, cultural events, social media, and digital from traditional paper media. You can enjoy "Peanuts" through serialized comics published in various media. In addition, in 2018, Peanuts formed a multi-year partnership with NASA on the Space Act Agreement. This Space Act Agreement is a program designed for the next generation of children to educate their passion for space exploration and STEM.
■ Related URL
・ Japanese Snoopy official website http://www.snoopy.co.jp/
・ Snoopy official Facebook page "Snoopy Japan" in Japan https://www.facebook.com/SnoopyJapan
・ Snoopy official twitter account "Snoopy Japan" in Japan https://twitter.com/snoopyjapan
© 2021 Peanuts Worldwide LLC
About measures for prevention of new coronavirus infection
In holding the "LOVE LOVE Snoopy Exhibition", we ask customers to wear masks, disinfect their hands, and secure a social distance, as well as thoroughly prevent the spread of infection in facilities and employees. We kindly ask for your cooperation in refraining from visiting the venue.
Seibu Ikebukuro Main Store
Address: 1-28-1, Minamiikebukuro, Toshima-ku, Tokyo 171-8569
Phone number: 03-3981-0111 (main representative)
Business hours: 10: 00-21: 00 * Sundays and public holidays are 20: 00 (irregular holidays)
* Please check the latest business hours below.
→ https://www.sogo-seibu.jp/ikebukuro/topics/page/rinjikyugyo2004.html
Homepage: https://www.sogo-seibu.jp/ikebukuro/
<Past related articles>
New brand "Fox and Lemon" appears at Seibu Ikebukuro main store ahead of the rest of the country
[Seibu Ikebukuro Main Store] Alien Silkscreen Art Exhibition
Frozen meal "Royal Deli" where you can enjoy dishes from all over the world at home.