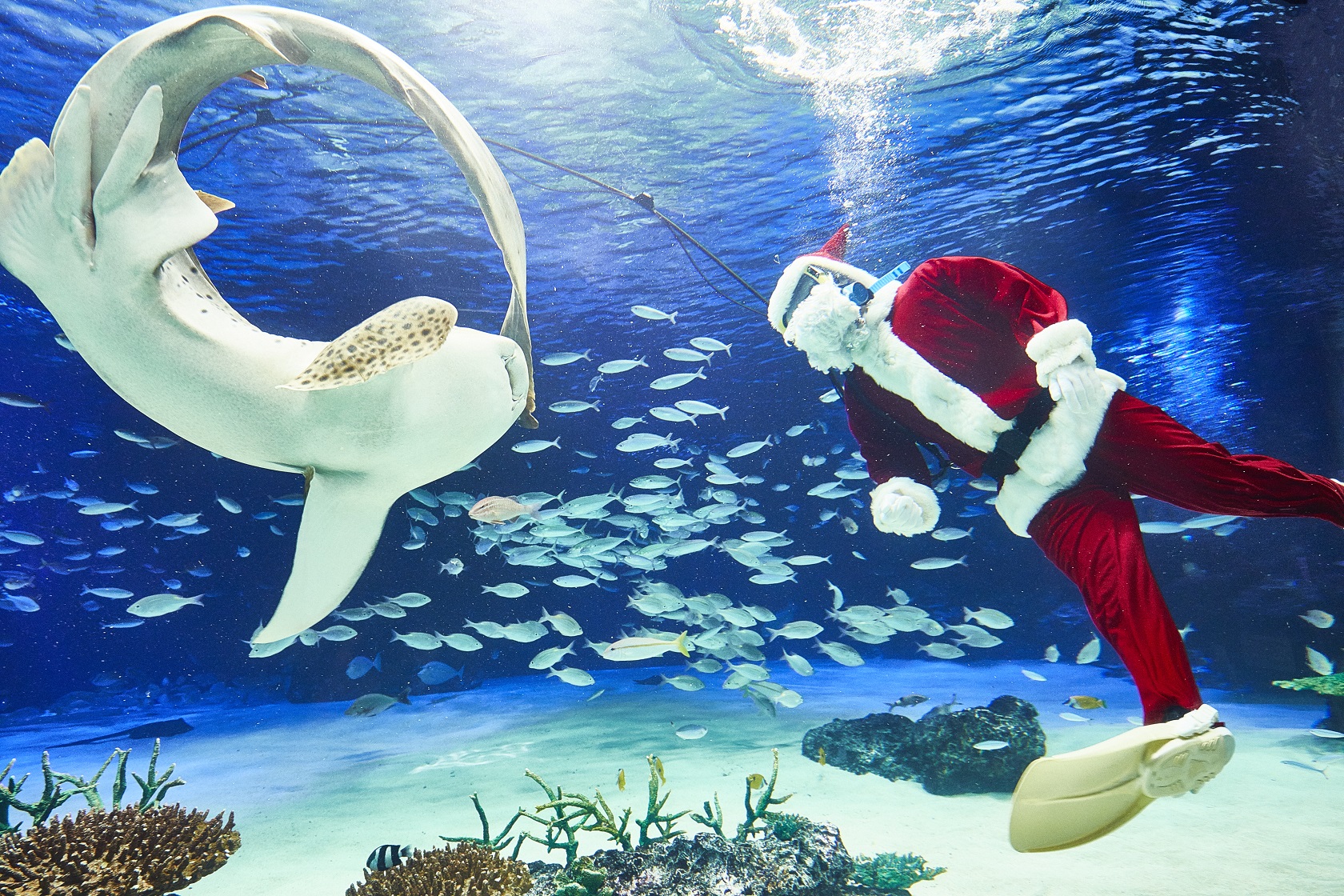 December 24th (Friday) -December 26th (Sunday)
At Sunshine Aquarium (Ikebukuro, Tokyo), "Santa Dive" and "Christmas cake will be presented to Kotsumekawauso" will be held as a living thing discovery Christmas ver. From December 24th (Friday) to December 26th (Sunday). ..
"Ikimono Discovery", whose concept is "something is happening that allows you to discover the charm of creatures anytime and somewhere," can be seen in various places in the Sunshine Aquarium throughout the year, but the amount of water is about. 240 tons a large water tank in the "Sunshine lagoon" is diver dressed as Santa appeared suddenly "Santa Dive" and "otter our waterfront," Get the ice of cake, such as food of rainbow trout has entered the oriental small-clawed otter aquarium to have exhibition of You can enjoy the " Christmas cake for small-clawed otters" once a day for a limited time .
・ Besides! Sunshine Aquarium Christmas
■ Things to be carried out during the period from Saturday, December 4th to Sunday, December 26th
● Otter Feeder Christmas ver.
As a creature discovery, the breeding staff will feed the river otter using a newly created Christmas ver. Feeder (*) with the image of Christmas.
* A feeder used to bring out the original behavior of living things.
● Hermit crab Christmas
Decorate the Umi-budo Christmas tree in the aquarium displaying hermit crabs to make you feel like Christmas.
Location: "Mystery of Creatures" aquarium on the 1st floor of the aquarium
● Penguins Plush Tree
Inside the building, there will be a "stuffed animal tree" that uses the original stuffed animals (penguins) of the Sunshine Aquarium.
■ Items sold until December 26th (Sun)
● Christmas limited original goods
A limited number of cube boxes containing crunch chocolate in a package with an otter wearing a Santa hat are on sale. (Ends as soon as it runs out)
Product name: Cube BOX (otter)
Price: 324 yen
※The image is an image. * All prices include tax.
* At Sunshine Aquarium, we are working to prevent the spread of new coronavirus infections so that our customers can visit us with peace of mind. We appreciate your understanding and cooperation when you visit us. Please check the Sunshine Aquarium website for details. https://sunshinecity.jp/aquarium/news/entry-14803.html
――――――――――――――――――――――――――――――――――――――――――――――――
■ Overview of Sunshine Aquarium
Location: 3-1 Higashiikebukuro, Toshima-ku, Tokyo Sunshine City World Import Mart Building / Rooftop
Business hours: 10: 00-18: 00 (Autumn / Winter), 9: 30-21: 00 (Spring / Summer) * Last admission is 1 hour before the end * Subject to change
Admission: Adults (high school students and above) 2,400 yen, children (elementary and junior high school students) 1,200 yen, infants (4 years old and above) 700 yen
Contact: Sunshine Aquarium 03-3989-3466 https://sunshinecity.jp
――――――――――――――――――――――――――――――――――――――――――――――――
<Past related articles>
Sunshine Aquarium Special Exhibition "Skee Bone Exhibition-meets Turtle Shell is Rib-" Renewal and Part 2 Held! !!
[Tokyo Citizen's Day] October 1st (Friday) Sunshine Aquarium & Sunshine 60 Observatory Information on advantageous discount services
An art exhibition and a movie screening to think about marine plastic issues will be held from September 23 with the aquarium.