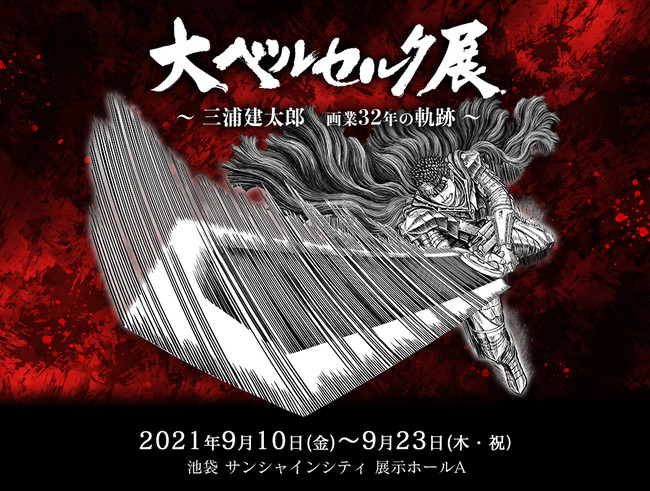 © Kentaro Miura (Studio self-painting) / Hakusensha
・ Exhibition contents
This event is the first solo large-scale exhibition of works, which will be held through all of the 300 or more handwritten manuscripts and color original drawings at the time of serialization. At the venue, valuable exhibits such as various statues produced by Kenshin Prime 1 Studio and various dioramas produced for this event will be exhibited, centering on the exhibition of original drawings in chronological order during the work. This is a must-see exhibition event for fans.
◎ Entrance
Photo spot of the cover illustration of the new version "Berserk" that pierced the dragon
◎ Chronicles 1-12 ・ Figure exhibition
We will exhibit a large number of valuable original drawings and three-dimensional objects in chronological order during the work.
◎ Eclipse
The trauma-class scene "eclipse" is reproduced with a large diorama.
---
---
◎ Godot Blacksmith
For Guts, who has abused his sword, Godot retrains his dragon, even though he is on the verge of death. Reproduce the famous scene at Godot's smithy.
◎ Chestnut pack forest
A corner that reproduces the fairy town. (Chestnut) packs are mixed in the trees.
◎ Zod statue
A statue of Zod, a rival of Guts! Achieved a crowdfunding project with the enthusiastic support of everyone! Finally the whole picture is revealed!
◎ Dream Corridor
Reproduce the impressive scene in the "Dream Corridor" that continues to the current series.
◎ Addition of exhibition area
We will add an exhibition that looks back on the painting industry, such as an interview video of Kentaro Miura recorded at the end of last year, a reproduction of the workplace, and rough drawings of other works.
・ Goods
At the venue, "Berserk" official goods of a wide range of genres such as accessories, pictorial records, figures, original printed matter, pins batches, food, stationery, apparel, fashion miscellaneous goods, dolls and stuffed animals, daily necessities, miscellaneous goods will appear! Here are some of them.
◎ Official illustration book "THE ARTWORK OF BERSERK" (Hakusensha) 3,850 yen
The latest art book of fans coveted, chasing the history of Berserk centering on the original paintings on display. Includes 40 volumes of cover art and a new interview with Kentaro Miura. Luxury bookbinding specifications.
◎ Berserk soy sauce dish with a sacrificial brand 1,485 yen
When you add soy sauce, the stigma of sacrifice comes up.
◎ Beherit's egg bread 1,080 yen
Egg bread with Beherit printed. That scene can be reproduced !!
◎ Large Berserk exhibition commemorative medal set 14,300 yen
A gorgeous medal set to commemorate the Great Berserk Exhibition! (Made to order) We will deliver the anti-three-dimensional medal in a framed state. Contains serial number. Each medal size is about 50mm x 42mm x thickness 5.2mm Frame size is about 250mm x 120mm
◎ Notebook type smartphone case Berserker armor 4,400 yen
Size (folding): Approx. 84 x 161 mm Size (development): Approx. 236 x 161 mm Material: Synthetic leather
Compatible models: Smartphones within 160 x 78 mm (iphoneX, XR, XS, XS Max, 11,11pro, 11proMax, 12,12pro, 12proMax, etc.)
◎ Smartphone ring Beherit 2,200 yen
Size: Approximately 65 x 64 mm Material: Brass
・ Outline of "Large Berserk Exhibition-Kentaro Miura 32 Years of Painting-"
Session: September 10th (Friday) to 23rd (Thursday / holiday), 2021
Business hours: 10: 00-19: 00 * Closed at 17:00 on the last day * Closed at 20:00 on other dates
Ticket: Advance 1,800 yen / Same day 2,000 yen * Free for elementary school students and younger
Commemorative goods A (ART OF WAR production This exhibition commemorative Beherit pendant) included Advance sale 5,000 yen / 5,200 yen on the day
Commemorative goods B (Dragon Koroshi pin badge) included Advance sale 2,500 yen / Same day 2,700 yen
Audio guide 700 yen
Venue: Ikebukuro / Sunshine City Exhibition Hall A
3-1-3 Higashiikebukuro, Toshima-ku, Tokyo 170-8630
Sunshine City World Import Mart Building 4F
Organizer: "Great Berserk Exhibition" Executive Committee
Cooperation: WOWOW, Fields
Exhibition cooperation: Kenshin Co., Ltd. (ART OF WAR), Prime 1 Studio Co., Ltd., Max Factory Co., Ltd.
Official Twitter @ B26478213
Official website https://www.dai-berserk-ten.com/
◎ Notes on admission
* This exhibition contains some stimulating expressions and depictions. Please come after understanding.
・ "Large Berserk Exhibition-Kentaro Miura 32 Years of Painting-" Osaka Tour Decided!
Dates: December 11, 2021 (Sat) -January 30, 2022 (Sun)
Venue: Hirakata Park Event Hall
1-1 Hirakata Koencho, Hirakata City, Osaka Prefecture 573-0054
<Past related articles>
Knowing the charm of the sexuality of living things and the connection of life Special nighttime business Sunshine Aquarium at night Full of sexuality Exhibition Refill
A rare body color that you rarely see !! A limited-time exhibition starts at the Sunshine Aquarium, which has three gold, silver, and copper colors.
Sunshine Aquarium Special Exhibition "Skee Bone Exhibition-meets Turtle Shell is Rib-"
"Night Sunshine Aquarium Night Kosei Love" held * June 11th (Friday) -August 29th (Sunday) 18: 00- *